HEATERS – Thermal comfort
Portable electric heaters provide a coziness feeling and are in high demand beginning in Autumn, season when Mother's Day is celebrated, an opportunity for retail to increase its sales.
The arrival of cooler days boosts the search for portable electric heaters, great thermal comfort representatives, with sales centered in Autumn and Winter months, Mother's Day included. If it's cold close to this date, the sales volume increases, says Giovanni Marins Cardoso, founding-partner and CEO of Mondial Eletrodomésticos. "The market is stable, has a slight growth and has greater activity when there's a sequence of cold days. Although there's competition from hot/cold air conditioners, it's always an additional need in bathrooms and living rooms.
by Leda Cavalcanti
In the last years, air conditioner sales have really grown due to its features, but they are still beaten by heaters in terms of portability, states Moisés Botelho, Ventisol's marketing manager. "The heater has its seasonality, but the market remains strong and the possibility of taking it to different rooms makes the product practical to use. Moreover, it has a low cost."
Brazil's colder regions, such as the South, Southeast, and Midwest register the higher sales of portable electric heaters.
The electric heaters market is growing and its demand will keep on increasing in the following years, for in the same way people use fans during Summer, they look for heaters in Winter, says Flávia Bertocco Di Cielo, Newell Brands' marketing manager, holder of the Cadence brand. "The consumer already sees the importance of these products as an inexpensive, safe, and reliable solution for thermal comfort."
Motivation
Purchase is motivated by weather, states Newell Brands marketing manager. "The main purchasers live in cities that register low temperatures during Autumn and Winter, colder regions in the Brazil's South, Southeast, and Midwest regions. In these places, for several months, they are essential for entire families' thermal comfort, heating rooms at bedtime, at children's change of clothes, and during meal times.
In the same way people use fans during Summer, they look for the thermal comfort provided by electric heaters during Winter.
In Brazil, a tropical country, high temperatures prevail. Thus people have fans and air conditioners for hot days, but when cold days arrive, heaters are needed even if for a short period, says Ventisol's marketing manager. "Consumers look for comfort at an accessible price. For this reason, fireplaces, floor or wall heating, among other options that demand a bigger investment. Cold days are sparse in most regions of the country.
Mondial's founder has the same opinion. "The product is very important during cold days to heat bathrooms and before shower, the room before sleeping and to watch TV. Thermal shock is unpleasant when we are warm and enter a cold room, thus the heater efficiently solves this problem. Up next, some market highlights.
Cadence
Cadence has three portable electric heater models. Blaze Air (AQC421), Auros Thermofan Heater (AQC412), and Solari (AQC400). The first is a thermofan intended for spaces up to 25 sqm with exclusive design, Blaze Air includes two heating levels, in addition to the fan that can decrease the room humidity. It's 1,500 W in 110 V version and 2,000 W in 220 V, a helix that boosts hot air flow and high resistance.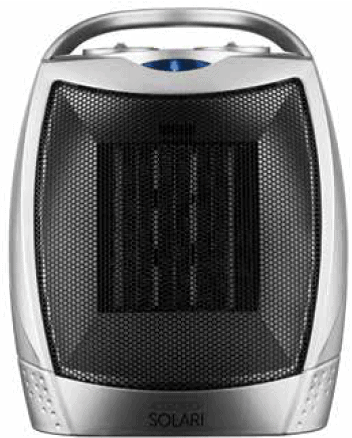 Solari has the efficient PTC Ceramic heating system, that prolongs the warmth feeling, 1,500 W power and three heating options: normal, warm, and hot. It has a safety pin that turns off the appliance in case of it falls and a protecting grid that avoids direct contact with the heating system. And Auros, lightweight and compact, which heats and dehumidifies the room. It has a transport handle, temperature control with two heating levels and one for ventilation, 1,500 W power and is available in 110 V and 220 V.
Mondial Eletrodomésticos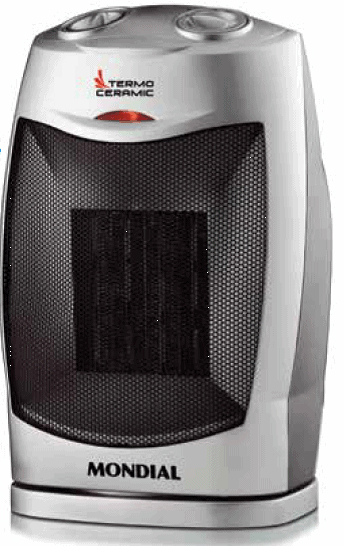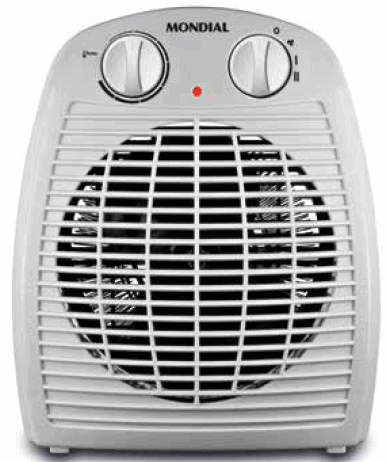 Mondial boasts a full heater line-up. The A-08, which is also a dehumidifier and A-05, a thermoceramic air heater, both of which quickly heat bathrooms, bedrooms and small rooms up to 16 sqm. As it is ceramic, the A-05 keeps the heat more consistent in the room and has a smaller air flow, which is preferable by some customers.
It also markets an oil heater for bedrooms and rooms up to 20 m2. With zero noise level, it heats the air through convection, exchanging heat per heating elements and doesn't burn oxygen. The appliance takes about two hours to heat a room. And A-09, a quartz heater. By means of quartz lamps, it quickly heats the room. It's suited for those who enjoy direct radiation.
Ventisol
Ventisol works with four portable residential heater types. The Thermofan A1, with 2,000 W power, is the small, practical, and powerful brand's model. It has three heating levels, a safety device and operation lights. The Quartz Heater, with 800 W power, has two quartz tubes with two heating levels, safety and grid device.
Another appliance, the halogen heater, with 1,200 W power, has three halogen lamps of independent actuation, safety and grid device. And the oil heater, with 15,000 W power, for bigger rooms. It has a smart thermostat with three heating levels and temperature control, safety device, and transport wheels. 
Heated water
For cold days, when nothing is more comfortable than washing your face and hands with warm water, Lorenzetti has the Versatile electric heater. "In colder days, the search for the product increases, it's a period when shaving or washing dishes lack heated water to perform tasks more comfortably", says Paulo Galina, the company's marketing manager.
The product offers three temperature options. It has two outlets, one for cold and another for warm water and can be used with all tap models. Installation is easy, says Paulo. "It doesn't require a kitchen renovation, nor in the bathroom, tap or mixer. It can also be set up in sinks and bidets and boasts an energy efficacy of over 95%."
Source: Eletrolar News ed. 135