Leader in the Brazilian food retail, Carrefour is a business ecosystem
"Our physical stores have a sales performance superior to that of e-commerce, but we believe that this is a format that will gain a lot more space over the years. In both channels, our consumer electronics category has the largest share of sales", Nöel Prioux, Grupo Carrefour Brasil CEO
by Leda Cavalcanti
The arrival of Carrefour in Brazil in 1975, it opened its first store in the hypermarket format on Marginal Pinheiros, in São Paulo, and led the segment to undergo major changes. At the time, the unit was an innovation for the retail market. Today, the Brazilian operations have become the second most important of the group in the world, only behind the French market. With 721 stores, the network has presence in the 26 states of the country and in the Federal District.
Their numbers are strong. The company ranks first in its segment and has a market value of R$42 billion. In 2020, it recorded R$74.8 billion in sales. "This result reinforced not only the leadership in Brazilian food retail but also the strength of our omnichannel ecosystem and the strategy focused on placing the consumer at the center of our decisions", says Noël Prioux, CEO of Grupo Carrefour Brasil, in an exclusive interview with the magazine Eletrolar News.
How was Carrefour's trajectory from food sales to electronics?
Noël Prioux – When we brought the hypermarket concept to Brazil, we started offering everything related to food that the customer needed under one roof, including self-service food, market, textiles, frozen foods, tools. With home appliances were no different. As Brazil was going through a period of restricted imports in almost all segments, it was unimaginable for consumers to think that they could buy, for example, a blender that was not huge, with a heavy and noisy glass cup. The blender sold at Carrefour was exactly the opposite: it was the most technological at the time. The microwave, invented in the 1950s, only arrived in Brazil in 1987, also by Carrefour.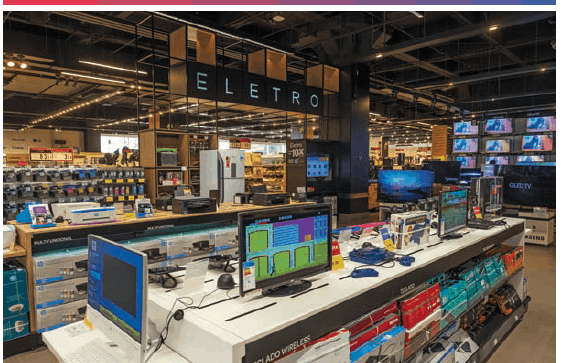 Does the home appliance category register good sales?
NP – It has very predictable demand behavior. As the average ticket is higher than the food, purchases are much more planned. Of course, with specific events, like the pandemic, this behavior has changed a bit. On March 13, 2020, for example, online sales were normal, but in the following weeks we had an explosion of hits, with sales volumes approaching those of Black Friday. People were not only buying food to cook at home, they were also starting to invest in new electronics to make social isolation more comfortable and enjoyable.
In addition to that, we usually have specific dates that are very relevant to the sector, such as the January sale, Carnival week, Mother's Day, Father's Day, Black Friday and Christmas. In the other months of the year, we have hot periods for specific categories, such as back-to-school for computers, and Valentine's Day for cell phones.
I believe that it is up to us together with our industry partners, to generate promotional activities that can offer the consumer access to the main brands in the market, with the latest technology, at a competitive price and with payment terms that fit their pocket.
Today, home appliances represent approximately 25% of the total sales of Carrefour Retail and is available to our customers in all our hypermarket formats and on our website.
What are the companies that make up the group?
NP – Using an omni-channel and multi-format platform, we bring together retail and Cash & Carry operations, in addition to Carrefour Bank (Banco Carrefour) and our real estate division, Carrefour Property. We currently have the formats Carrefour (hypermarket), Carrefour Bairro and Carrefour Market (supermarkets), Carrefour Express (proximity retail), Carrefour.com (e-commerce), Atacadão (wholesale and self-service wholesale), as well as gas stations and drugstores. In 2018, the Group acquired CyberCook, a platform with more than 100,000 recipes available, which became part of the company's global Act for Food movement, whose objective is to make healthy eating accessible to everyone. We've also established key partnerships and acquisitions for the company's digital transformation. Among them fintech Ewally, to expand the portfolio of financial solutions and services across the Group's ecosystem, and the startup CotaBest, responsible for the development of the entire Atacadão marketplace.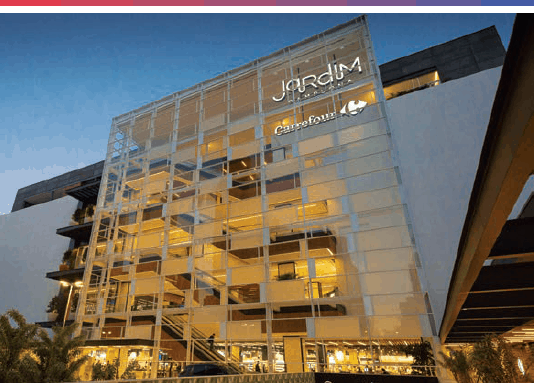 What is the volume of items sold by Carrefour?
NP – In our hypermarkets, we sell approximately 50,000 SKUs and have the help of more than 95,000 employees. We seek to represent the Brazilian population in our workforce. This means more opportunities and affirmative action for women, black people, LGBTQI+ people, people with disabilities and other minor profiles. It goes beyond acting according to international human rights standards, the country's legislation, good social responsibility practices, valuing diversity and inclusion- they are part of Carrefour Brasil Group's DNA, and it is a strategic pillar for the company on a global scale.
What is Carrefour Market value?
NP – The Carrefour Brasil Group has a market value of approximately BRL 42 billion and continues to show a remarkable growth performance, recording in 2020 BRL 74.8 billion in sales. This result reinforced not only its leadership in the Brazilian food retail sector but also the strength of its omni-channel ecosystem and the strategy focused on placing the consumer at the center of our decisions
Is working with several store models a strategy?
NP – More than the biggest food retailer in Brazil, we are a business ecosystem. We offer different formats to serve different market segments. The expansion of these formats is in line with our values ​​of democratizing healthy eating for the population, promoting the Act for Food movement. It inspires us to think about more consciously eating. We seek leadership in the food evolution in Brazil through our global commitment to provide quality products at affordable prices for all.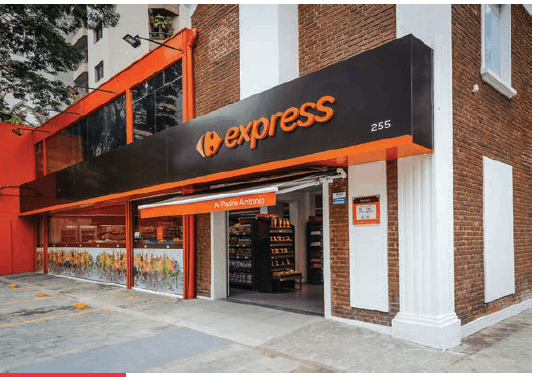 Which strategies contributed most to the Group's success?
NP – In 2018, we launched the Carrefour 2022 Plan globally. A strategic business model that incorporates the objective of making healthy eating available to all. To become a world leader in the food evolution, we have identified four pillars on which we work globally and locally. One is called Act For Change, which seeks to simplify our organizational structure to make it more agile. Another is Digital Transformation, in which we accelerated our digitalization and created an omni-channel ecosystem, bringing together physical stores, e-commerce and other businesses groups. We have the Expansion pillar, in which the focus is to increase our polarity and reach more customers throughout Brazil. And the Food Transition pillar, guided by the Act for Food movement, whose initiatives encourage the transition to healthier, more sustainable and conscious eating.
The nutritional quality and environmental aspects of a food item depend on many factors, including its production chain. Therefore, we invest in items of traceable origin, requiring compliance with ethical and qualitative norms and standards. Prioritizing cooperatives and small producers, we seek to strengthen production networks and the local economy, betting on transparency and sustainability as fundamental pillars.
Another highlight is the launch of the super app Meu Carrefour, a facilitator of our customer's daily life. It includes not only product sales, but also rewards, recipes and state-of-the-art service programs. Another highlight is the support we have from our financial core, Banco Carrefour. Among the largest card issuers in the country for some years, it has already operated as a multiple bank, that is, it is capable of offering financial solutions that support our current business and offer us the possibility of continuing to diversify the portfolio of products and services. A model we have called fintail.
What is the Group's average growth in recent years?
NP – In the last three years, we had a very relevant sales evolution, growing double digits and gaining market share consecutively. In 2020, our growth reached an increase of 22.2% (excluding gasoline), a performance significantly superior to the market. This was a consequence of the change in the business model we made at the end of 2018, together with the launch of the Carrefour 2022 Plan, and from which we have reaped excellent results.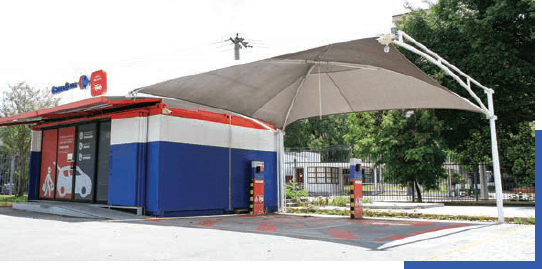 What differentiates the Brazilian consumer from the French consumer?
NP – What sets it apart is the sensitivity. Consumers as a whole are already considering ESG factors (environment and social responsibility) when choosing products and services. And in Brazil it's no different. In Brazil, consumption is closely linked to the characteristics and regionalism of each state, given the size of the country. France also has this issue of region-to-region characteristics, but smaller than here.
When did the company enter e-commerce?
NP – We implemented it in 2016, and the platform was already showing good growth and sales results even before the pandemic. With social isolation and digital acceleration, in the second quarter of 2020, the Group's e-commerce growth represented a three-year leap in only three months, bringing the business model closer to its equilibrium point.
This was made possible by the structure that was already in place to support our growth, especially by the side stores (food) and the growth of partnerships in the marketplace (non-food). The result of e-commerce was one of the highlights of the 2nd quarter of 2020 for our Group, with growth of 377% in food GMV and 65% in non-food, and it continues to increase every quarter.
As part of the ecosystem digitization advances, in October 2020 we launched a new e-commerce platform. We advanced in the agile integration of internal and external systems to offer an increasingly unified experience to our customers. The innovative platform has positive impacts on all fronts of the business, with a high-level performance in order management, marketplace structure and omni-channel services that connect online operations with physical stores.
In 2020, our e-commerce represented 4.4% of the Group's sales, an increase of 22.2% in revenue share, and continued to grow in the first quarter of 2021, with a food GMV of R$ 197 million, eight times greater than two years ago.
How is the network logistics supported?
NP – The Carrefour Brasil Group's supply-chain process is supported by different state-of-the-art technological platforms. It is through these systems that we are able to manage the main processes in the chain, control inventory levels, reduce stockouts, gain efficiency and productivity, in addition to integrating and synchronizing information with all players in this supply chain: producers, industries, distributors and carriers.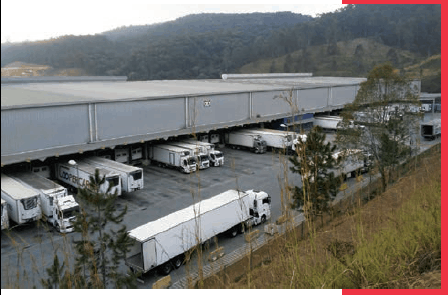 We have 24 logistics operations: seven dry distribution centers, seven perishable and frozen goods platforms, an exclusive non-food e-commerce distribution center, eight side stores and a dark store for food e-commerce. This network is distributed and strategically located to support our different businesses and formats in the cities of São Paulo, Rio de Janeiro, Recife, Manaus, Belo Horizonte, Contagem, Curitiba, Porto Alegre, Campinas and Osasco. We still have 105 non-food Click & Take-away stores and 44 Click & Take-away food drives that are integrated with e-commerce to increase our delivery capacity and polarity.
We have more than 70 transport partners in distribution, who provide more than 600 vehicles 100% dedicated to our operation. Here, it is worth highlighting our environmental responsibility in reducing CO2 emissions. In recent years, we have focused on important pillars ranging from a change in our energy matrix, reducing dependence on the use of diesel and introducing gas and electric vehicles, to changes in distribution processes, using cabotage and road trains, and gains productivity with optimized routing and greater occupation of vehicles. All this in line with our audacious plan to neutralize CO2 emissions from logistics with GreenFarm.
In Atacadão, the logistics network guarantees the supply of merchants in about 4,900 cities in Brazil (88% of the total number of cities). With digitalization, the network seeks to enhance its scope of action for new Brazilian municipalities. Both operations are integrated with delivery apps such as Rappi and Conershop. In September 2020, due to these strategies, 98.2% of food retail deliveries were made without delay, with an average of 1.6 days.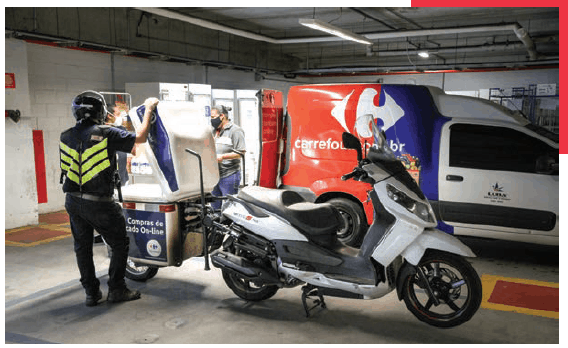 What does the network offer on the marketplace?
NP – Carrefour.com.br offers consumers a wide variety of food and non-food products. For non-food products, in addition to its own assortment, our e-commerce has a network of partners, in a marketplace format with more than 3,000 sellers and 4 million registered products.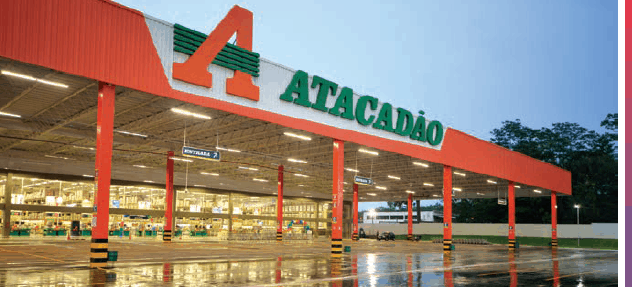 Atacadão also advances in its digital strategy. Its e-commerce, which shows promising results, integrates Atacadão's own online sales channel and a marketplace operation with more than 300 wholesale partner sellers and around 50,000 products. The operation began in the state of São Paulo, in October 2020, and is being expanded throughout the country, through its 30 delivery wholesalers.
What are the advantages of the marketplace?
NP – For the seller, the marketplace remains the ideal place to increase sales without spending too much. In addition to the partners relying on Carrefour's digital expertise to take advantage of a world-class platform, they gain great exposure for being part of our network. For us, it is one more convenience that we bring to our customers so they can centralize their purchases in the Carrefour Brasil Group networks, strengthening our competitive advantage.
How does the company assess the performance of Brazilian retail and e-commerce?
NP – As an essential service, supermarkets had fewer restrictions on their business during the pandemic. Social isolation accelerated the digitization of consumers. Online participation, which was underrepresented, registered some of the biggest gains as consumers adapted to the new format. In Brazil, according to Mastercard's Recovery Insights study, e-commerce had an expansion of 75% in 2020, representing 11% of retail sales. Before the pandemic, this share of sales was practically half – 6%.
Today, we see that players that were already adopting and investing in e-commerce innovations have an advantage in their segments, not just in retail. The sector continues to grow, but this increase is small compared to e-commerces. It is essential that retailers not only invest in new digital performance strategies, but also focus their efforts on customer satisfaction.
As an example, carrefour.com.br, which was already prepared and forecasted the increase in online demand, gathered a team of over 150 people who created in just eight months an extremely resilient platform that adapts as the number of access goes up, automatically gaining robustness to continue operating. The integration of formats and the improvements in the platform are already recognized by our customers. In October 2020, the NPS reached the highest level of the year, closing with a 90% increase compared to 2019. We continue to observe the growing participation of online channels.
Electronic products are the most purchased items in Carrefour e-commerce, especially in the categories of cell phones, white goods, computers and TVs. One of the highlights of 2020 was the online sales of home appliances. In June, they accounted for 39% of the group's total sales.
Do you sell more via physical stores or e-commerce?
NP – Our physical stores have a sales performance superior to that of e-commerce, but we believe that this is a format that will gain a lot more space over the years. In both channels, our consumer electronics category has the largest share of sales.
How do you see the competition between the physical store and e-commerce?
NP – I believe that physical stores and e-commerce are complementary and not competitors.
It is important to invest in an omni-channel strategy, in which the customer can have an even more comfortable and integrated shopping experience. This is, for certain, the future of retail.
What investments are projected for this year?
NP – We have invested R$2 billion over the past five years. In 2021, we announced the acquisition of BIG for R$7 billion and we intend to continue at a strong pace of expansion and investments over the next five years.
What types of challenges will retail have?
NP – The main challenge is to resume growth. Returning to the level we were before the pandemic, with sustainable growth and, above all, increased consumption will be very challenging. Finding a fair equation for everyone, reconciling economic growth and, above all, social growth. In my years in Brazil, one thing I could learn is that Brazilians are resilient people and that they know how to reinvent themselves like no one else. Despite all the odds, they don't lose the sparkle in their eyes and keep hope up for better days.
As for opportunities, I see it as the right time to rethink our relationship with the environment and with consumption. We need to show that it is possible to eat well, without spending too much and in a sustainable way. And I believe that if we achieve this, we will have left an incredible legacy for Brazil and the world. I think it is important to highlight that the pandemic scenario has accelerated the digitization of purchases in all households, something that was already pointed out as a trend for the coming years. Therefore, we believe that the use of digital channels for consumption is a lasting movement and will continue to increase, but once physical stores reopen this percentage of growth will gradually decrease.
This is the year of the decree implementation for the recycling of electrical appliances. How is Carrefour cooperating?
NP – Given the importance of this issue, we didn't wait for the decree to come into force to take actions to contribute to the recycling of electronic waste. Since the end of 2019, we have worked with this type of initiative in stores, installing voluntary delivery points (PEV) where customers can correctly dispose of their electronic equipment at the end of their useful life.
"In 2020 we had 21 stores with PEVs installed and correctly recycled more than 3 tons of electronic waste. In 2021, we have 33 stores, with plans for more implementations by the end of the year."
To help us in this process and expand electronics reverse logistics in our formats, we have partnered with Green Eletron and ABREE, the two largest electronics and battery logistics management organizations in Brazil. We ended 2020 with 21 stores with PEVs installed and correctly recycled more than 3 tons of electronic waste. In 2021, we were able to expand the program to 33 stores, with plans for more implementations by the end of the year and coverage in the regions of São Paulo Capital, coastal region, Rio de Janeiro state, Rio Grande do Sul, Paraná, Mato Grosso do Sul and Pernambuco.
Also going beyond compliance with the National Solid Waste Policy (PNRS) of the Ministry of the Environment, we seek to engage employees and customers in efforts to correctly dispose of post-consumer materials and packaging. Today, all the waste generated in our stores is separated and 50% of it recycled, a great achievement of which we are proud of. For comparison purposes, in France, the average of recycled waste at Carrefour stores is 70%.
With the practices adopted, the goal is to reach the Zero Landfill target by 2025, which means giving an adequate destination to all the packaging waste generated and reducing food waste by 50%, avoiding disposal in landfills. We also have the goal of making 100% of packaging reusable, recyclable or biodegradable for Carrefour branded products by 2025.

The beginning in 1959

The history of Carrefour began more than 60 years ago, with its visionary founder, Marcel Fournier, and the opening of the first hypermarket in France at an intersection in the municipality of Annecy, in the country's southeast. The year was 1959. And the name of the establishment founded there, it was chosen precisely for its location. Carrefour, in French, means crossing.

Fournier, who owned a haberdashery in Annecy, teamed up with members of the Badin-Defforey family, a food wholesaler in Lagnieu, to test the first self-service in a 200m² sales area. With this concept, people maintained their privacy by helping themselves directly from the shelves. In June 1960, they opened the 850m² supermarket model at the intersection of Parmelan and André Theuriet avenues, in Annecy.

With the success of the business and inspired by the United States, the founder of Carrefour opened the first hypermarket in France in Sainte-Geneviève-des-Bois, on July 15, 1963. It was the first model of its kind in the country, offering a wide range of products at low prices, in an area of ​​more than 2,500 m², with 400 free parking spaces. Today, it is a multi-format network, one of the world's leading ones, with revenues of €78.6 billion in 2020 and more than 320,000 employees.

Source: Eletrolar News Magazine #143
eletrolar.com