Tablets: To study, work and have fun
Innovations and advanced technological resources encourage the use of tablets by adults and children, making up a market that remains optimistic in terms of sales.
From the first commercially released tablet in 1987, which weighed about four kilos, to today, everything has changed in the category. The few functions of the pioneering device gave way to innovations that have increased the usability of these products. Some wonder if smartphones could fulfill the same role, but for certain jobs, such as creative and homeschooling, they are still preferred. For this, the contribution of technology was fundamental.
by Leda Cavalcanti
People discover the product's facilities in a daily basis, says Milene Rocha, senior manager of the tablet area at Samsung Brazil. "One of its main attractions is its flexibility. The user can use the tablet in desktop mode with the help of the keyboard cover or speed up his notes and visual creations with the support of the S Pen. With these innovations, tablets have become great allies for a multitasking routine. They make it possible to work, study, watch movies, make high-quality video calls, and create and edit projects and documents as notebooks have been doing for years."
The performance of activities on the touch screen panel gives tablets greater interactivity and agility, says Cristiane Clausen, executive director at Philco. With larger screens, its use is enhanced, giving the user more possibilities in terms of visualization, and facilitating reading. Compared to notebooks, they stand out in terms of portability. They are smaller and often have superior performance compared to entry-level computers and notebooks. By enabling the use of pens for writing or drawing, they become indispensable tools for educators and designers.
Market changes
The tablet market experienced great growth during the pandemic years, says Gustavo Massette, manager of mobility products at Positivo Tecnologia. "And, if we separate it into two segments, children (up to 7") and performance (8" and above), in the same period there was a reversal of volume. Before the pandemic, models up to 7" represented approximately 70% of sales. Today, the scenario is exactly the opposite: almost 70% of the market is concentrated in models of 8" or more."
After the peak of sales in the pandemic, which was reflected in the results of the following years, the market remains optimistic. "Considering the availability of raw materials and the development of the operating system, the tablet has been optimized to improve the solutions that the product offers. We have the largest portfolio of children's tablets, with educational and recreational resources", says Fernando De Donato, product specialist at Multi.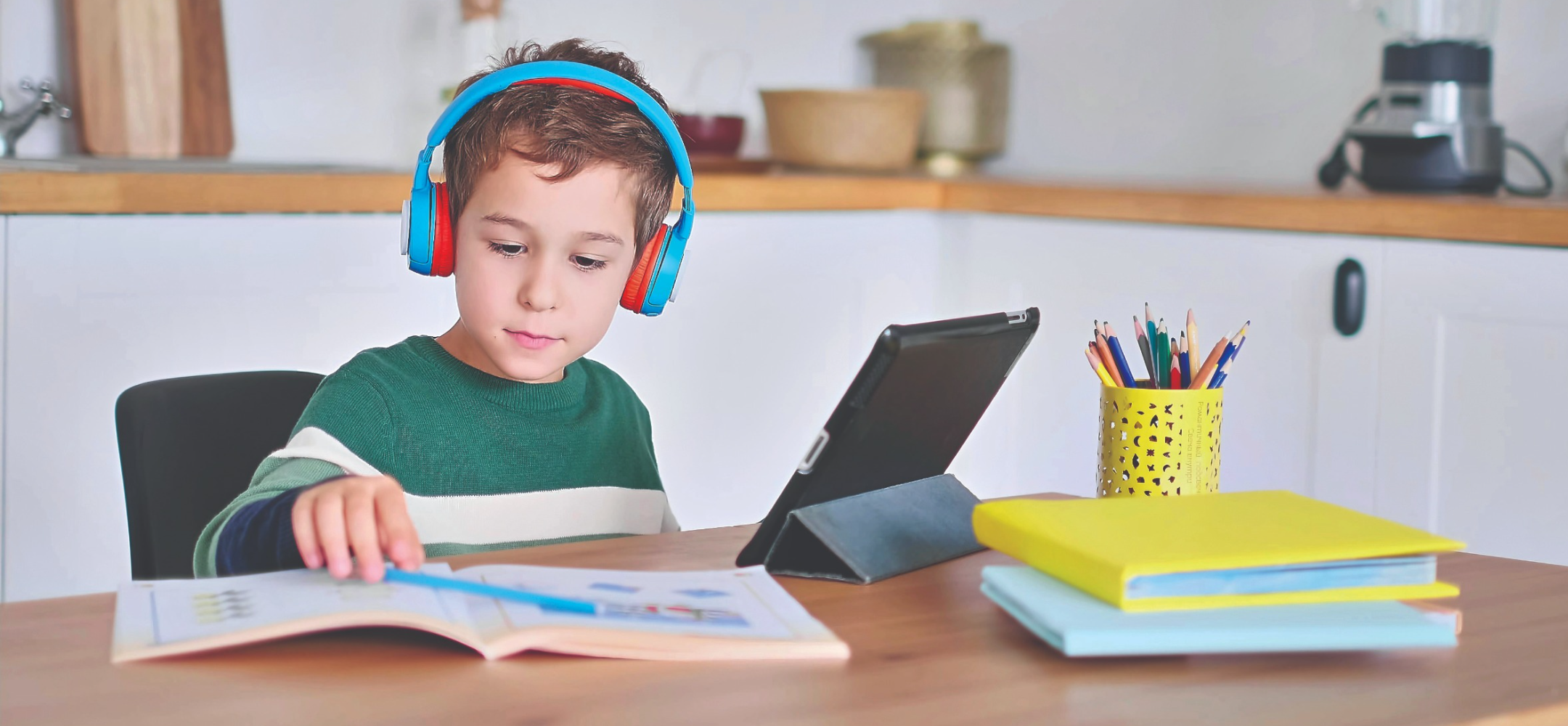 Investing in a model in the current market, which can be used by both adults and children, was the path chosen by Motorola. "We understand that, many times, the device is used by the family and not just by an individual. That's why our device has functions that meet the needs of both adults and children", says Thiago Masuchette, head of products at Motorola in Brazil. "The market as a whole remains niched between users who need devices with performance, speed to work or study and the growing public of children, who need a quality product with safety for navigation and daily use", summarizes Luciano Barbosa, head of operation at Xiaomi Brazil. Check the market highlights below.
MOTOROLA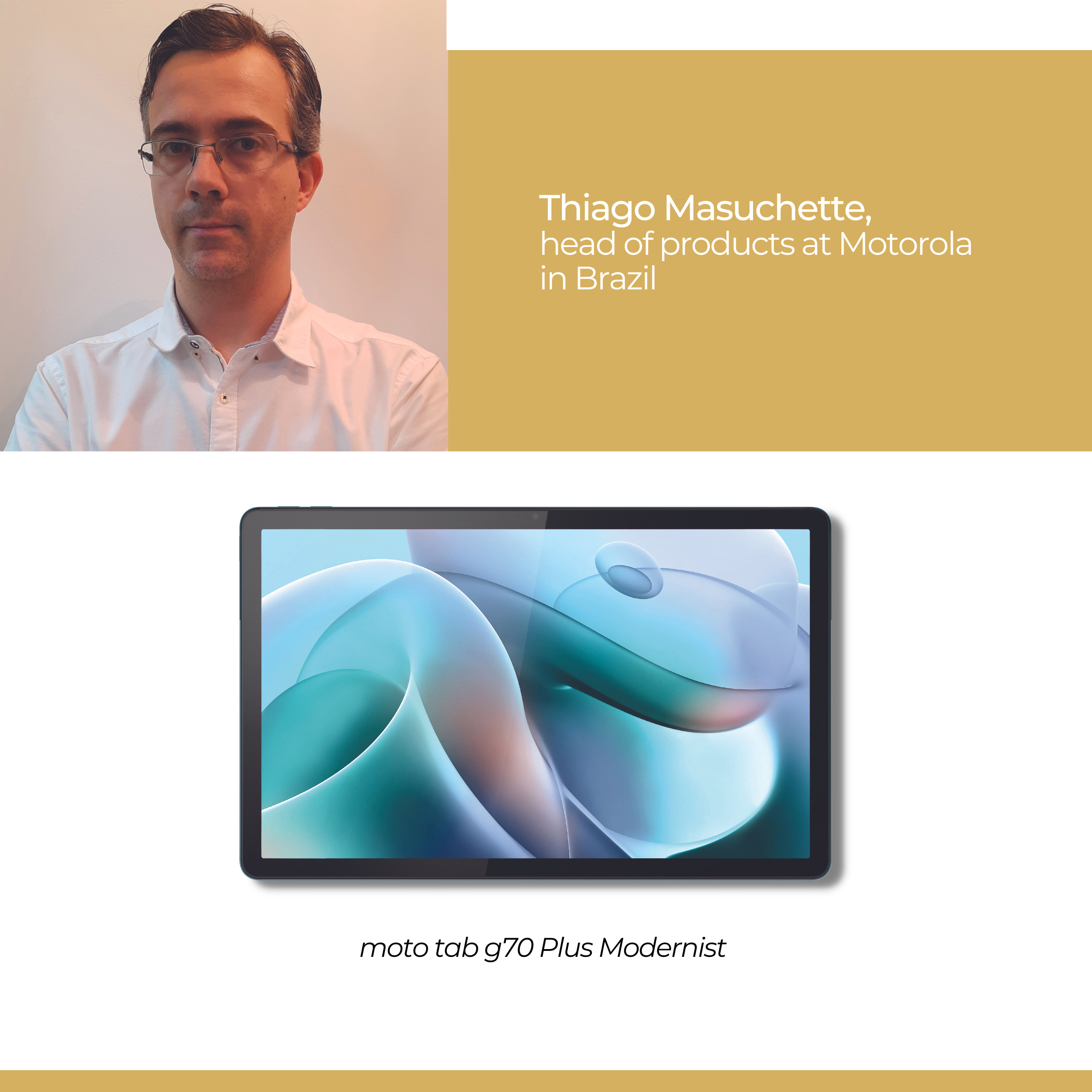 The moto tab g70 tablet marked the return of the brand to the segment and it is available in two versions, one compatible with Wi-Fi networks and the other with support for 4G networks. For adults, it comes with the pure version of Android 11 and was designed for entertainment, meeting the trend of hybrid activities, which is gaining more relevance in the world. For children, it offers the Google Kids Space, with teacher-approved apps, books, videos, and games. Its differential is the Google Entertainment Space service, which brings together videos, games, and books in a single space.
With an 11" IPS screen and 2K resolution, it features powerful performance and allows you to play without lag thanks to the Octa-Core MediaTek® Helio G90T processor and 4 GB of RAM. It has four Dolby Atmos® speakers, two microphones for video calls, 64 GB internal storage, 13 MP rear camera with autofocus, HDR and flash and 8 MP front sensor. It has facial recognition, premium design, metallic finish, 7,700 mAh battery, TurboPowerTM 20 W charger, cover with flap and film to protect the device.
moto tab g70 Plus Modernist – Suggested price on 11/10/2022: BRL 1,899.00 (LTE + Wi-Fi version) and BRL 1,699.00 (Wi-Fi only).
MULTI
In the category, its most recent devices are the Multi Ultra U10 tablets, Turma da Mônica and Patrulha Canina. The Multi Ultra U10 tablet, Android 12 silver (NB386) has a 10.1" screen, Octa-Core processor, 3 GB RAM + Dual Band Wi-Fi with Google Kids Space, 64 GB storage, 8 GB rear camera MP and 5 MP front camera. It has Wi-Fi, 3G, 4G and GPS connections, a capacity of 6,000 mAh and allows voice and video calls.
The Turma da Mônica and Patrulha Canina tablets, with a 7" display, feature the following configurations: Quad-Core processor, 1 GB RAM memory, 32 GB storage, 2 MP front camera, Wi-Fi connection and 2,400 battery mAh. The company offers models with cases and keyboards, which further improves the user experience
Multi Ultra U10 – Suggested price on 11/14/2022: BRL 1,499.00.
Tablets Patrulha Canina and Turma da Mônica – Suggested price on 11/14/2022: BRL 599.00.
PHILCO
The PTB8R tablet is available for adults. It has a 4G connection and Bluetooth 4.2, all combined with the Android 11 system, guaranteeing all the tools and applications necessary to simplify and make the device more productive in the user's daily life.
For children, it highlights two versions with an attractive look: Batman and Wonder Woman – PTB7SSBT and PTB7SRGMM, respectively. They have Android 9 GO system, camera, 3G connection and 16 GB of memory. With them, children have access to games and educational applications.
Tablet PTB8R
PTB7SSBT
PTB7SRGMM
POSITIVO TECNOLOGIA
There are three of the company's most recent tablet releases, both for adults and children. The Positivo Tab Q10" 2nd Generation is a product with 4G connection, dual band Wi-Fi and 64 GB of storage. It has a more modern processor, which allows for greater agility and fluidity in day-to-day activities.
The Positivo Twist Tab Novo Minions and the Positivo Twist Tab Ladybug are the new versions of the brand's children's tablets. The products have high quality accessories, with the entire theme of the characters, in addition to SW customizations to bring fun and safety to children. They join previous products, the Twist Tab Kids and Twist Tab Spidey.
Positivo Tab Q10" 2nd Generation
Positivo Twist Tab Novo Minions
Positivo Twist Tab Ladybug
SAMSUNG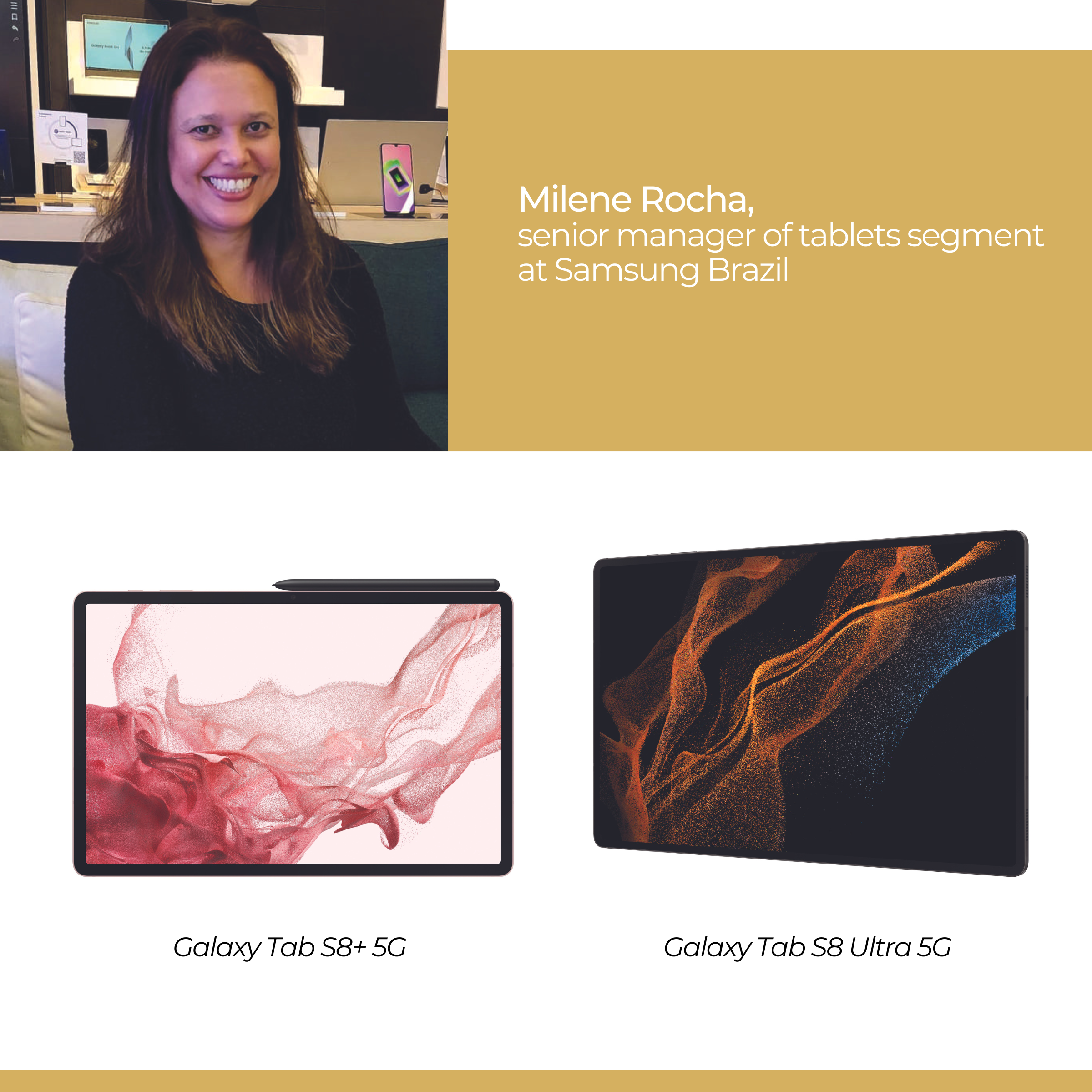 It highlights the recent releases, the Galaxy Tab S8+ 5G and the Galaxy Tab S8 Ultra 5G, which comes with the S Pen in the box, designed to offer maximum connectivity and mobility. The Galaxy Tab S8 Ultra 5G has a 14.6" screen and Super AMOLED technology, 120 Hz refresh rate, 6.3 mm thin bezels and four speakers with Dolby Atmos®. It has 16 GB of RAM and 512 GB of storage and is equipped with two powerful 12 MP front cameras – Wide and Ultra Wide – and two rear 13 MP Wide cameras with autofocus and 6 MP Ultra Wide. The line's products were developed with recycled components derived from fishing nets that would be discarded at sea. Thus, they reduce the environmental impact.
The Galaxy Tab S8+ 5G is presented with a 12.4" resolution screen and Super AMOLED technology, with a refresh rate of 120 Hz. The device weighs 567 g and is 5.7 mm thick. It has 8 GB RAM memory, 256 GB storage and biometric authentication. It comes with a 12 MP Ultra-Wide front camera and the same set of rear cameras as the Galaxy Tab S8 Ultra 5G. Samsung tablets are integrated into the Galaxy Ecosystem, which offers unlimited connectivity with notebooks, smartphones, smartwatches, wireless headphones, and S Pen.
Galaxy Tab S8 Ultra 5G – Suggested price on 11/14/2022: BRL 12,499.00.
Galaxy Tab S8+5G – Suggested price on 11/14/2022: BRL 8,999.00.
XIAOMI
It brought to Brazil, more recently, the Xiaomi Pad 5 model, suitable for professional and entertainment purposes, with a realistic visual experience and very immersive audio. Light, thin, compact and with design, it has parental control features for children and has full interaction with the brand's smart devices. The Qualcomm® Snapdragon™ 860 mobile platform and the 8,720 mAh battery increase productivity and offer high-end audiovisual entertainment for watching movies and series supported by powerful speakers.
Its 11" screen stands out for its WQHD+ image display quality and 120 Hz refresh rate. It is equipped with True Display technology, which automatically adjusts the screen to display accurate images based on ambient lighting. It has an 8 MP front camera and a 13 MP main camera. The novelty allows you to scan documents. The tablet has the MIUI system, exclusive to the brand. It is presented in the colors cosmic gray (gray) and pearl white (white).
Xiaomi Pad 5 – Suggested price on 11/11/2022: BRL 4,299.00.
Source: Eletrolar News #152