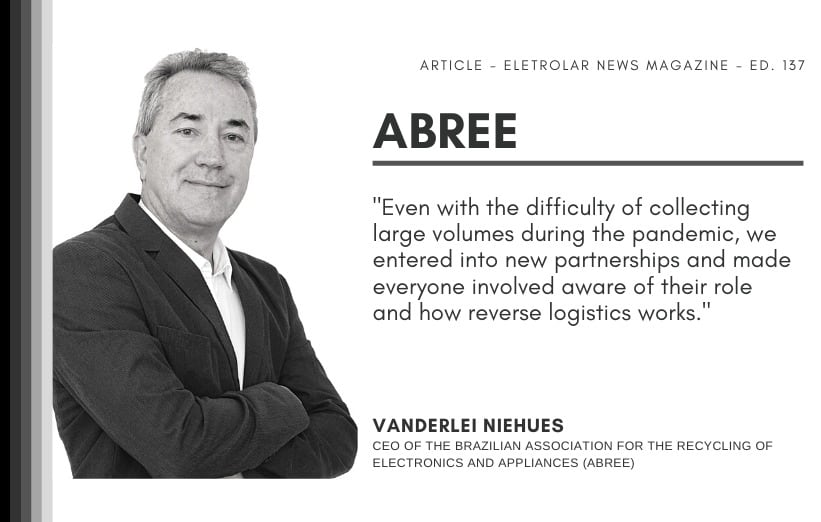 ABREE – The scenario of household appliances and consumer electronics recycling during the pandemic
An atypical and very important year for Brazil, including in terms of advances in the recycling of home appliances and electronics: this is the challenging current scenario. This is because the need to maintain social isolation has meant that many of the establishments that are partners to house receiving points, places where electronics and home appliances must be discarded, had to remain closed for a long time.
These receiving points are crucial for the functioning of the reverse logistics ecosystem, as they are the bridge between the consumer who wants to discard a post-consumer product and management entities, such as ABREE, that carry out, through partners, the collection of these solid residues to send them, safely, for recycling.
Even with the difficulty of collecting large volumes, we entered new partnerships and made everyone involved aware of their role and how reverse logistics works. Thus, the balance of recent months is that we have taken great steps to disseminate this importance and establish more partnerships, in addition to strengthening ties with the municipalities that already do reverse logistics with the support of ABREE, such as São Caetano do Sul, Cruzeiro, Guaratinguetá, Mogi das Cruzes and many others.
We see the increasing involvement of our 28 associates, who follow ABREE's work, which is to define and organize the management of solid waste, implementing collective reverse logistics systems and reducing operational and transaction costs. We are on the right path for the construction of this ecosystem and we leave here the invitation for manufacturers and importers to join this year, as in 2021 everyone will have a great challenge to meet the goals of the decree to implement the reverse logistics system for electronics nationwide. www.abree.org.br
Source: Eletrolar News Magazine #137