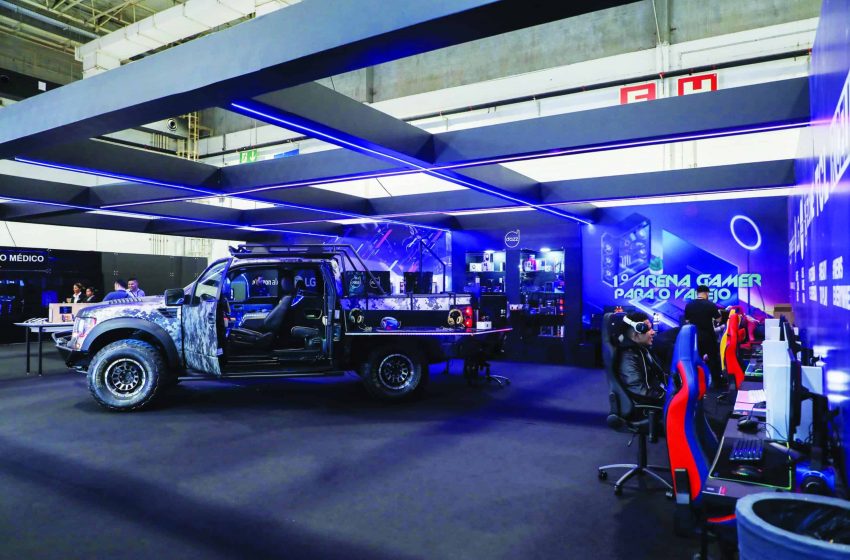 An immersion in the gaming universe
With 92.4 million players, who consumed US$ 2.5 billion in products and services last year, the gamer world deserved an exclusive space for connectivity with digital games at the 15th Eletrolar Show. The initiative was supported by Alexa, Dazz, LG, Rcell, TCL and XZone.
LG proposed was to serve specific customers in one of the fastest growing sectors during the two years of the covid-19 pandemic. At Arena Gamer, the South Korean company made its monitors available on the tables so the visitors could play games. In addition, the company launched its 42" OLED C2 Gamer TV.
The exclusive gaming space also featured the first gamer truck in Latin America, the Dazz Truck. The Ford vehicle was customized with Dazz-branded speakers, internal monitors and a PlayStation 5, which was available for visitors to play.
Showroom for the category
Product manager at Dazz, Antonio Nascimento said that there was a strong increase in demand in the last two years, highlighting the importance of the Eletrolar Show. "It was our showcase to introduce the new mousepad line with speed, control and precision technologies, and hardware products, which we physically presented. We have never felt that retail is so prepared to work with games as it is now."
Alexandre Elias Della Volpe, CMO at Rcell, said that the gamer and e-sports market, together, are bigger than the film and music markets, and will continue to grow. "The brand invested heavily in this niche throughout the Eletrolar Show, especially at Arena Gamer."
Official distributor of the main companies in the video game sector, Sony Playstation and Nintendo, Rcell also distributes, in the e-sports segment, products from the Dutch brand Trust (accessories and peripherals for PC gamers), Kingston (memory storage) and from Corsair (software).
Evolving market
At Arena Gamer, SEMP TCL presented the 4K QLED Mini LED C825 TV, which guarantees a unique experience for gamers. With frame refresh panel rate of 120 Hz and VRR and ALLM modes, which make game play more fluid and without crashes, the device is ideal for high FPS games that require cutting-edge and responsive technology. It has an integrated soundbar signed by Onkyo.
XZone, which has been on the market since 2019, has made several launches at the Arena, including the gamer headset – GHS-03, compatible with PC, Xbox, PS5 and smartphone, adjustable microphone, 50 mm speaker with sound insulation and LED lighting. It also featured 24" and 27" gaming monitors and three gaming chairs with adjustable seat and armrests and pillows for the lumbar and neck.
In January of next year, XZone monitors for the gamer segment will be manufactured in Brazil. "It is a new market; it is evolving and promises a lot for the future. From now on, it will grow much more", said Giovanni M. Cardoso, founder of the MK Group, to which the brand belongs.
Source: Eletrolar News #150