Design and sustainability in the housewares category
Aesthetics and harmony are definitively established as factors inherent to domestic utensils. Another good retail sales opportunity.
Essential in differentiating a product and driving sales, design currently shows its strength in all product categories. More recently, it has been combining aesthetics with functionality in household utility items, especially after the greater appreciation that consumers have given their homes due to the pandemic.
Design is increasingly important in the household goods category, says Christian Hartenstein, CEO and managing partner at Grupo Brinox. "The main reason is that people are receiving more friends, and the kitchen, which used to be hidden, has become the most important place in the house. With the new apartments and gourmet terraces, people want utensils and pans with design and in a trendy color to welcome friends. The kitchen became the heart of the house."
Within the scope of trends for the category, Brazil, by its extension, is not a country, but a continent, says the CEO. "We are lucky to live in a place with many regional particularities, including regarding colors. So, what is fashionable in the Northeast, for example, is not always the same in the South or Midwest of the country. On the other hand, there are classic materials, such as stainless steel, which never change, do not vary in color."
Sustainability in 1st place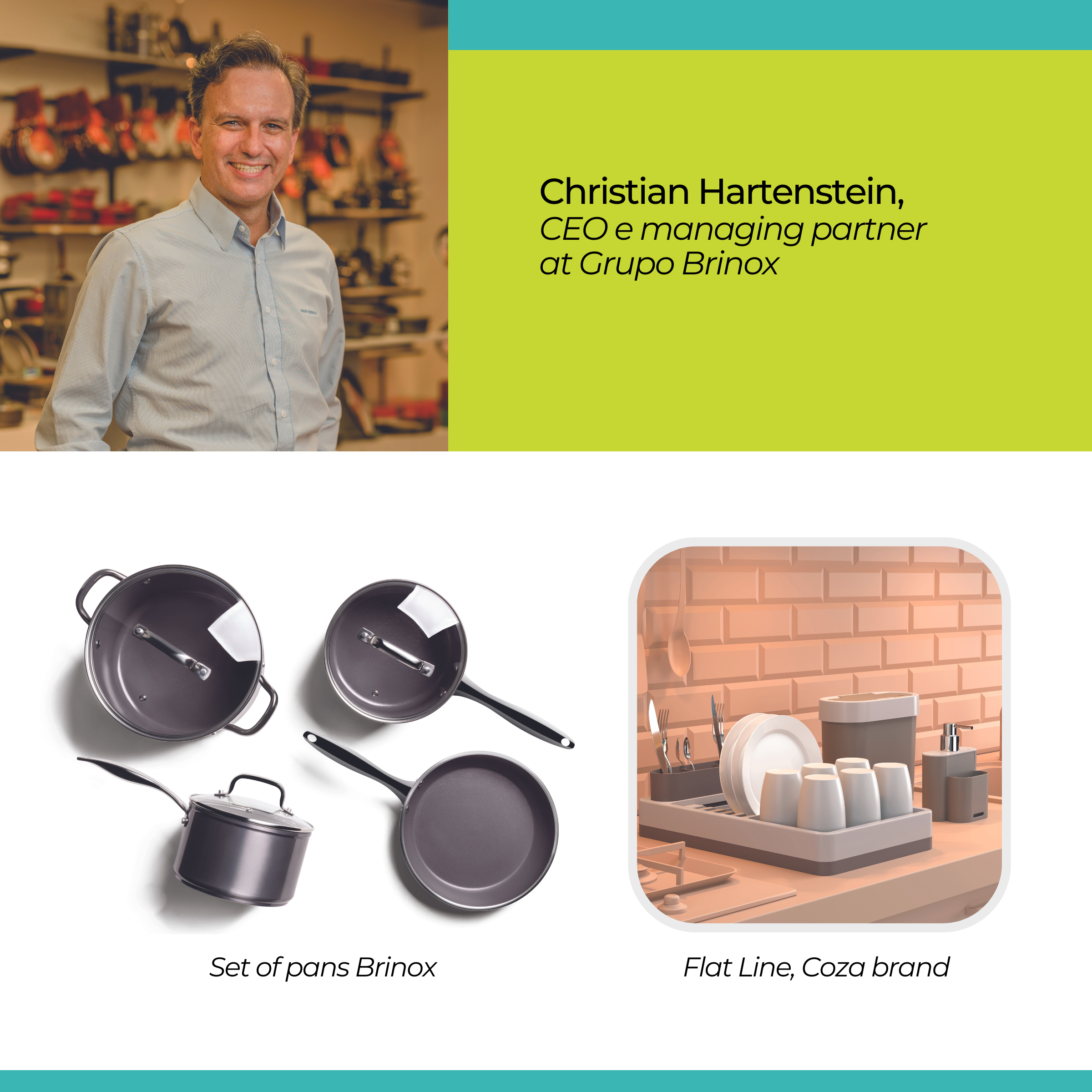 Design and sustainability need to go hand in hand. For 2023, Brinox invested in the readjustment of its products and will not focus on one or another launch, but on the sustainability of the items, says Christian. "We have a complete line from Coza and also pans made with recycled material from the ocean and aluminum reuse." Coza, a brand of the Grupo Brinox, was awarded in the 2022 IF Design Award with the Hoop pots and the Flat Line.
The company has been working internally for a long time with a focus on sustainability, which is now a global trend. "We studied how to make our business continue to grow without harming future generations. We are very happy to have taken this step", says Christian.
The housewares category did well in sales during the pandemic, but suffered when other sectors opened up, such as tourism. In the second half of 2022, it normalized, and the projection is that 2023 will be better than the previous year. "We are looking forward to it, we haven't stopped investing, on the contrary, we opened a new factory in Linhares (ES). We increased the production of pans, we almost doubled the production of plastic, and we have a very complete and nice line", says the executive.
New routine
The pandemic has given new meaning to the home and the domestic utensils segment, with challenges and opportunities, especially for e-commerce. Comfort, naturalness, and warmth are some of the factors that will guide consumer choices, says Márcia Santos, e-commerce coordinator for the Guzzini brand in Brazil. "The housewares trending items will bring more natural materials, colors and the perfect-imperfect concept."
In a good way, imperfection will be valued. "The idea is to have items that look less as plastic and have fluid shapes. There are those who prefer the traditional ones, but the colorful ones are gaining ground, because they offer different formats to compose the table and even a certain irreverence. Textures and prints will be on cups, plates, bowls, and other utensils", says Márcia.
Current trends highlight the beauty of asymmetrical objects. "Considering this interior reconstruction movement in the new post-pandemic routine, we can say that sales have grown significantly, especially those of products with sophisticated design and made from sustainable materials", says the coordinator.
To serve and decorate
The brand's Le Murrine Blue and Pink Collection has versatile bowls, which give an elegant touch to the table and can also be used in decoration. They are manufactured in Italy with Guzzini's exclusive technology – 3 Color Tech. Paying homage to the Venetian art of glassmaking, the collection features pieces created by talented designers Pio and Tito Toso.
Another highlight is the Tierra Collection, with the concept of sustainability. Its jar, with an aerodynamic shape, has a lid to protect the contents, especially when outdoors. The integral rack keeps ice cubes or pieces of fruit inside the jar when serving.
The product, with 1.8-liter capacity, in taupe overcoat color, is 100% produced with the recycling of 16.9 pet bottles. "The collection expresses all the know-how of a company that has always processed plastics and now does while preserving the environment", highlights Márcia.
With an eye on the consumer
Anticipating changes in consumer behavior is a necessity. "We understand that he is even more attentive when it comes to design sophistication and interior decoration. For this reason, in addition to increasing the line of small appliances, we redesigned the product design, focusing on neutral tones and minimalist and elegant features", says Maciel Vasconcelos, national sales manager at Amvox.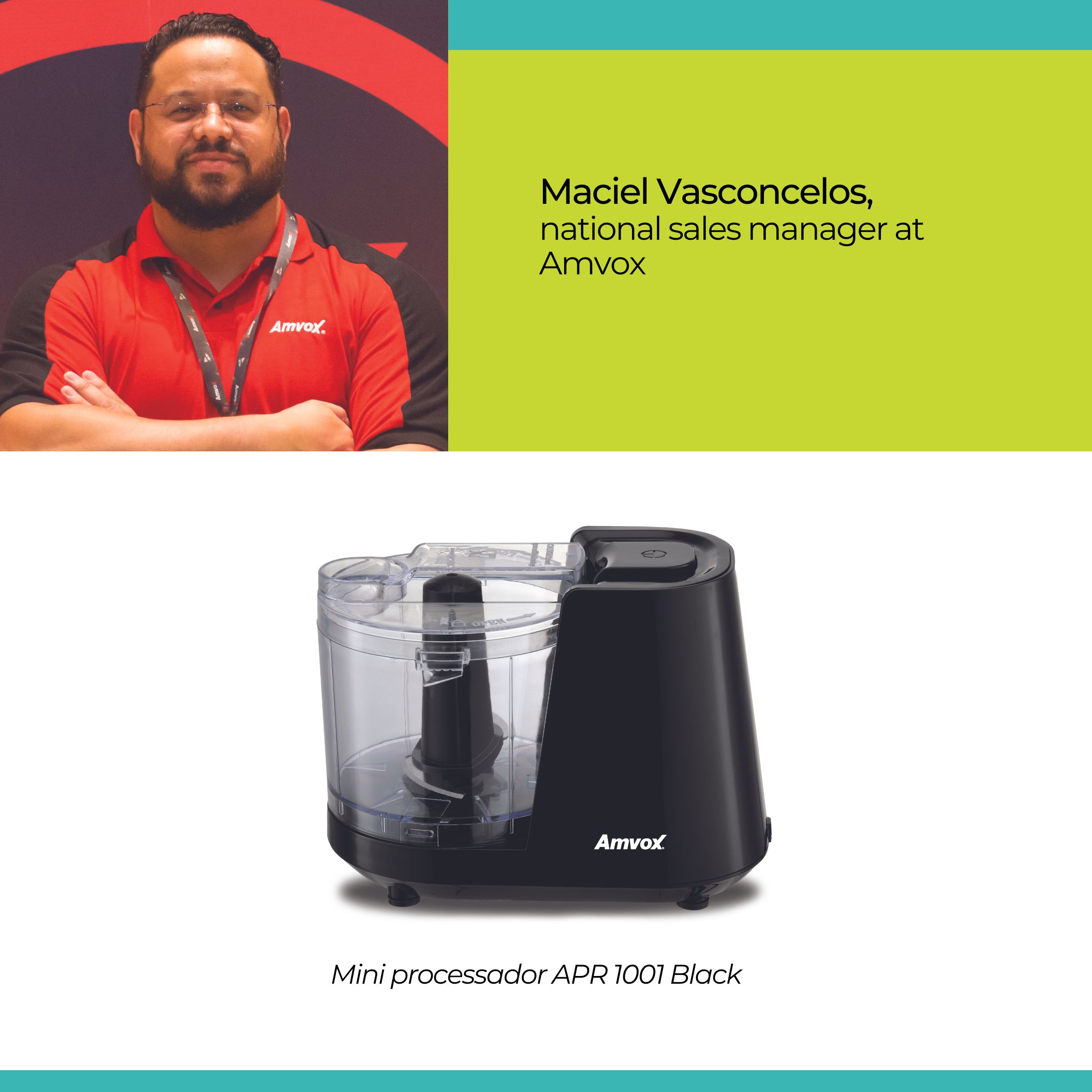 Keeping an eye on the national and international market is important, says Maciel. "We noticed that the stainless-steel line has gained fans, generating a growing demand. For this reason, we invest in the development of products with a chrome finish, in stainless steel and in neutral colors, such as black. This results in greater durability of the design, preserving its color and original features."
In business for 19 years, Amvox, although it has higher revenues with portable and audio lines, sees a good opportunity in the home products segment. "Our gaze also turns to the category, and we look for products with differentiated design and technology", says Maciel. Its launch, the APR 1001 Black mini processor, grinds, chops, and shreds. It has sharp blades and 100 W power.
Health and environment
Innovating and investing in design is Kouda's proposal, which produces double-walled cups and thermoses. "The design has a lot of relevance when the customer sees the product. For this reason, we are always researching Pantone color trends and news to follow fashion and the classic", says Yuri Lima, director of the company.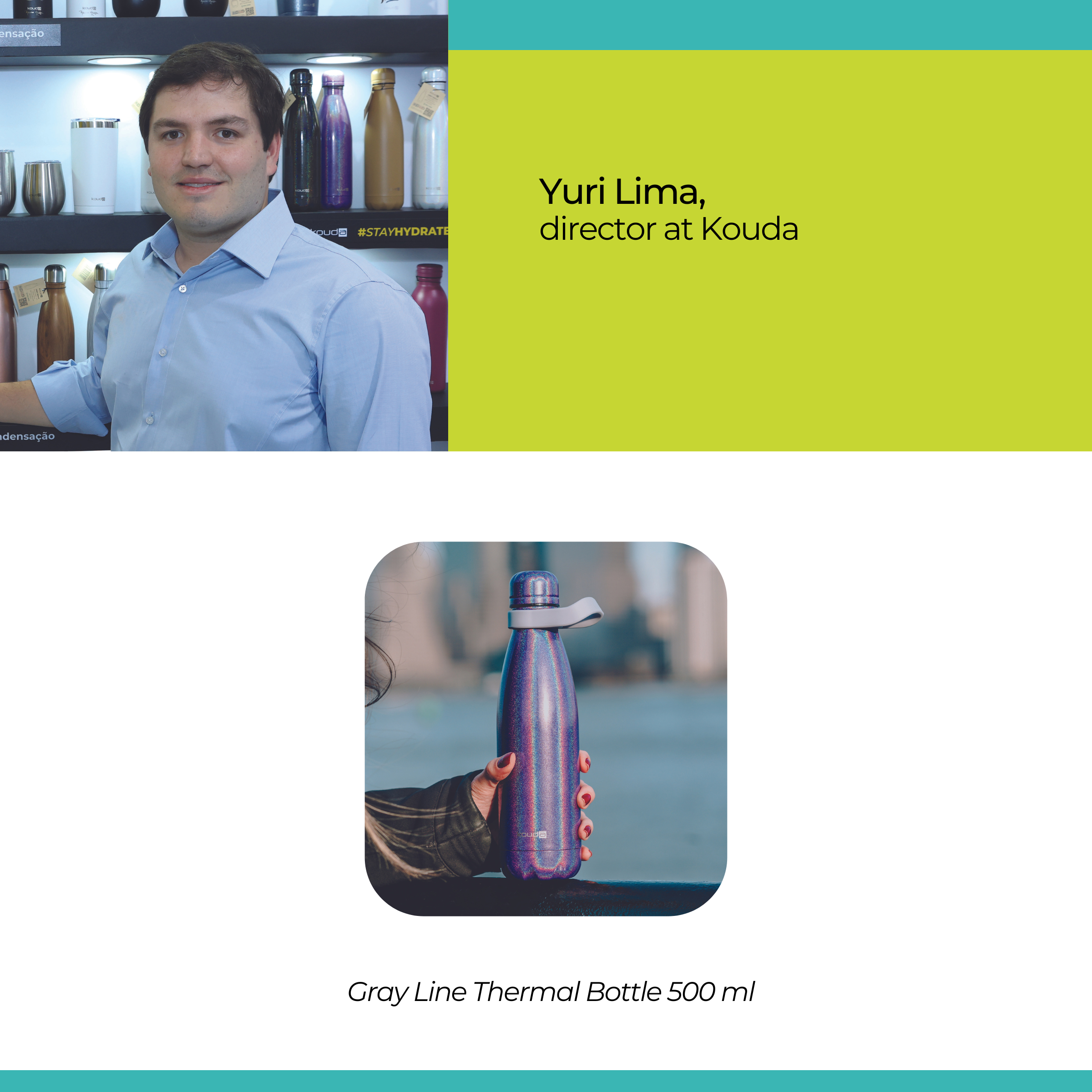 "The Kouda thermos is not just limited to the kitchen, many also use it in the bedroom, office, car, on walks and at the gym", says the director. With a capacity of 500 ml, it keeps liquid cold for 24 hours and hot for 12 hours. It has vacuum insulation, no condensation.
It is manufactured with double wall stainless steel SAE 304 18/8. "This differs from other types of stainless steel due to the joint presence of chromium (Cr 18%) and nickel (Ni 8%) in its composition, which makes it much more resistant to oxidation and corrosion. It is BPA-free and provides greater safety for health and the environment," says Yuri.
It has an airtight screw cap (does not leak), made of stainless steel and polypropylene with Powder Coating paint, which guarantees an external texture that is more resistant to scratches, keeping it as new for much longer. "Each year, customers demand more quality. They want durability, design, and respect for the environment, as a disposable product or one with inferior quality will quickly go to waste", says the director.
Source: Eletrolar News #152