DOSSIER – TABLETS
The device wins consumers mainly due to portability. Compact and light, it's easy to carry. Touch screen, games entertainment, digital cameras and book reading, songs, and videos are some of the factors that make this device desired by children, young people, and adults.Sales attest acceptance: they've increased by 54% in revenue since the beginning of the year to August, as per data of research company GfK. For this reason, it's this Dossier's character.
MONDIAL ELETRODOMÉSTICOS
TABLET KIDS
The Mondial Eletrodomésticos Kids Tablet has a Quad-Core processor, 8 GB of flash memory and 1 GB of RAM. It has a 7", 1024 x 600 display, 6 W of power and Android 7.1 Nougat operational system. It comes with a 0.3 MP front and 2.0 MP rear camera, micro USB, micro SD ports, and earphones input. It's bivolt and is available in pink (TB-19) and blue (TB-18). Wi-Fi connection.
MULTILASER
TABLET MINNIE
Presents an exclusive tablet with the character Minnie, displaying a textured and rubberized case. It has a 7" screen and ergonomic transport strap. When folded, it supports the device so users can watch videos. It comes with a Quad-Core 1.5 GHz processor, 1 GB of RAM memory, 16 GB of internal memory, expandable up to 64 GB via micro SB card (not included), Wi-Fi and Bluetooth connections, 1.3 MP front camera. It has a 2,000 mAh lithium-ion battery and parental control.
PHILCO
TABLET PTB7RSG 3G
Quad-Core processor, 1 GB of RAM and 16 GB of internal memory (expandable up to 32GB). It has a 7" – IPS multitouch display with up to 5 simultaneous points and Android 9.0 PIE (Go Edition) operational system. Integrated Bluetooth 4.0, Wi-Fi, 3G system with SIM card. 0.3 MP front and 2 MP rear cameras. It also has MicroSD, Micro USB ports, two SIM Card ports and earphones input. 3.7 V/2,700 mAh battery. Also available in Kids version.
POSITIVO
TWIST TAB MINIONS
With a 7" display, it has rounded corners and ideal thickness for being handled by children and adults. It has 32 GB of storage memory, Quad-Core 1.5 GHz processor, 1 GB of RAM memory, rear camera, and Android Go operational system. Its case is printed with the Minions movie images, one in silicon, which keeps the design rounded and highlights the characters, and another in multifunction neoprene which transforms into a bag for transporting.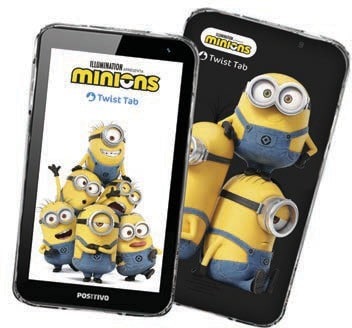 SAMSUNG
GALAXY TAB S7
The company brings a 5G tablet to the Brazilian market. It has an 11" display, ideal for those who enjoy making digital drawings with the S pen, which comes with the model, as well as the Clip Studio Paint drawing app, from Android, that comes pre-installed. The Galaxy Tab S7 is part of the Galaxy Ecosystem, capable of acting as convergence point between different devices, such as smartphones, notebooks, and smart TVs. Available in two colors: bronze and black.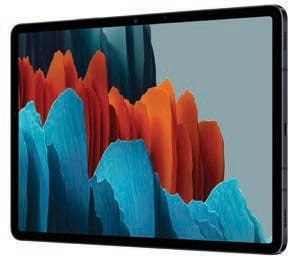 Source: Eletrolar News #138 – by Neusa Japiassu