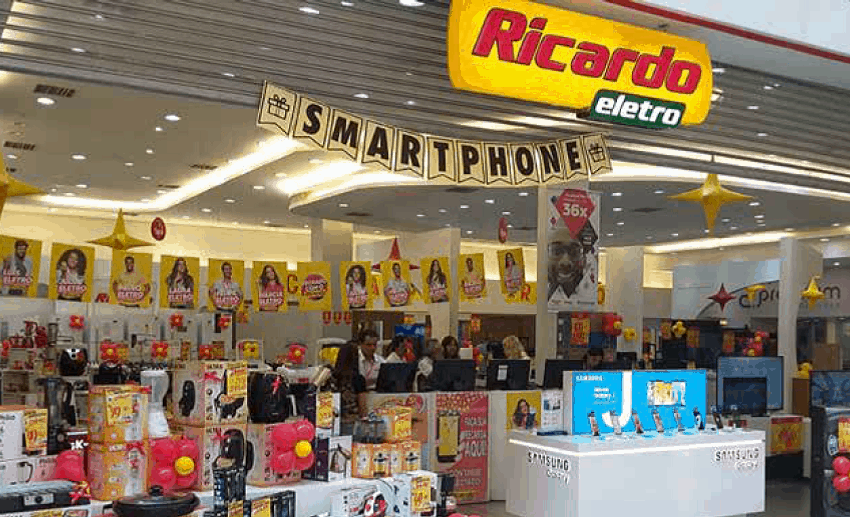 Ricardo Eletro foresees revenue of BRL 3 billion in 2019
Born in the countryside of Minas Gerais, Ricardo Eletro is the flagship of the Grupo Máquina de Vendas and now reaches 30 years with over 500 stores in 15 states and the Federal District, an e-commerce and renewed spirit. "In 2018, it earned BRL 2 billion. With the brand repositioning, restructuring and modernization, the forecast is BRL 3 billion in 2019 and approximately BRL 5 billion in 2020," says Pedro Bianchi, Starboard partner and chairman of the Group's board of directors.
Created in 2010, with the merger of Ricardo Eletro and the companies Insinuante, City Lar, Eletro Shopping and Salfer, the Grupo Máquina de Vendas unified its brands in 2016. It left Ricardo Eletro as the main brand, which led to a strategy of brand standardization and commitment in regions where it was not a reference. Regional brands were kept in store environments in some locations.
The Starboard Group specializes in private equity and corporate restructuring. Since 2018, when the it gained the responsibility of management, administration entered into the process of becoming professional. The CEO of Ricardo Eletro is Luiz Wan-Dall. "The founder, Ricardo Nunes, has a minority but extremely important stake for the company, and a seat on the board," says Pedro.
Rising sales
Distributed in Minas Gerais, Rio de Janeiro, Espírito Santo, Paraná, Santa Catarina, Mato Grosso, Bahia, Pernambuco, Sergipe, Alagoas, Rio Grande do Norte, Ceará, Maranhão, Piauí, Goiás and Federal District, the stores have area between 800 and 900m² and have been gaining unified visual language. The largest, 6,000 m², is in São Luiz (MA), and the five distribution centers are in Goiás, Santa Catarina, Pernambuco, Minas Gerais and Maranhão.
The company's growth exceeds expectations. In the first half of this year, sales increased by 50% compared to the same period of 2018. Its portfolio has over 80,000 products. Home appliances and consumer electronics are among the top sellers. Together they accounted for 80% of sales last year.
 Now the network turns to Black Friday. "It's one of the main dates for us compared to Christmas. Knowing the high volume of sales, we started preparations two months in advance, which includes hiring employees, training, qualification of service and concern with logistics, so there are no problems with deliveries," explains Pedro.
Current Retail
 The international economic crisis of 2008/2009 and the Brazilian recession in 2015/2016, not yet overcome, affected retail, whose growth depends on employment, income and financing. New consumer attitudes have also impacted and will continue to impact retail, says Pedro. "Social networks, for example, have gained enormous strength. This generates full time exposure of the brand. From them, you strengthen or sink a company."
Consumers are in a phase of reevaluating habits, thinking long before buying, exercising conscious consumption and opting for products developed within the concept of sustainability. "Every retailer has to have a clear and coherent purpose and be on multiple platforms. Being omnichannel is another change that includes brand, sales, language, technology, storage and logistics efforts," says the executive.
As the customer is currently the focus of companies in all channels, whether online or offline, Ricardo Eletro works integrated communication, but aligned to the format of each channel. It is necessary to understand the paths that the consumer has taken to decide to buy and make it pleasurable to motivate him to return.
Digital change
Digital transformation has also impacted retail. "Today, the consumer is a co-creator of e-commerce, the website, social networks and, consequently, the entire sales and marketing strategy. More and more people will need to understand who is buying to know what to offer each one, almost exclusively. Selling products loses space for selling experiences. Working based on price alone is no longer enough," says Pedro.
Other sectors are being taken care of are e-commerce and marketplace. On the website of the network, sales increased substantially, and the platform may become horizontal later this year. For the consumer there are more conveniences, such as the electronic checkbook (new payment method), the pick-up store (allows online purchase and withdrawal in store) and the infinite shelf (can start offline and end online). Another project is the implementation of the network's CRM.
For 2020, the idea is to intensify and consolidate the brand's omnichannel presence, customize and optimize customer service and journey. "There is no doubt that the main challenge for retailers is to understand and know their consumers more closely, to offer what they need, through the channel they access and at the best time for them," says Pedro. The network will also scan and greatly facilitate its operation.