AUTOMOTIVE SOUND
A powerful device is increasingly essential in the daily lives of drivers, both in city traffic and on the highways. The connectivity made these products true multimedia centers, which expanded and made this market more profitable. Today, the comfort of a quality car sound system also brings the tranquility of connecting with smartphones to find the best routes. Driving along with a quality automotive sound is a great pleasure. Therefore, this Dossier brings the main models that represent good opportunities for retail.
BRAVOX
It has 40 W RMS of power, a pair of six-inch Triaxial B3X60G speakers, with a maximum power of 100W each, and a pair of 6×9 inch Quadriaxial B4X69G speakers, with 140W of maximum power each. The kit has a 12-month warranty certificate against manufacturing defects.
Gold Easy Kit – Suggested Price as of April 26, 2021: R$ 208,90.
HARMAN
The JBL Club 620F is a 6½" (160 mm) low profile coaxial automotive speaker. In its technical specifications, it features 55 W RMS and 165W peak power, 92 dB sensitivity (at 2.83 V / m), frequency response from 55 Hz to 20 kHz and nominal impedance of 3 Ohms.
Automotive Speaker JBL Club 620F – Suggested Price as of April 12, 2021:R$ 519,00.
MONDIAL
With modern design, it has USB/SD inputs and auxiliary to connect the cell phone, digital display with red flashlight, multifunction such as Bluetooth, FM radio and MP3 playback, and high sound quality, with 1,800W RMS audio. The device is bivolt and has a one-year warranty.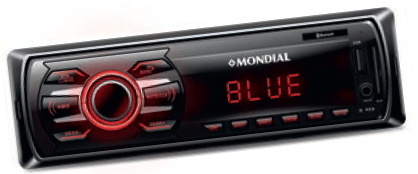 Automotive radio Mondial AR-06 – Suggested Price as of April 8, 2021:R$ 199,90.
MULTILASER
It has an Android 9.0 operating system, 7" capacitive screen to provide greater precision and smoothness to the touch, and a screen resolution of 1024×600. It has Aux, microSD and USB inputs, FM radio and memory for 36 stations. It has compatibility to control the main functions through the steering wheel, input for Backup camera, Wi-Fi connection, 16GB of internal storage, wired and wireless mirroring with Android and iOS.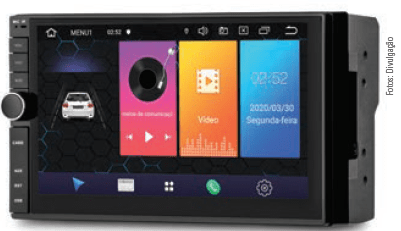 DVD Media center Evolve Android 9.0 – GP349 – Suggested Price as of March 31, 2021: starting at R$ 1.199,00.
PIONEER
The Z-Series device, the brand's most sophisticated line, has a 9" floating screen, HD resolution and elegant design. Adapts to different types of vehicles and is compatible with Apple Carplay and Android Auto. It has integrated digital TV, Bluetooth, USB input (3.0A), connection with steering wheel control, rear monitor and backup camera. Offers time alignment, 13-band graphic EQ, frequency cut, high-resolution audio reproduction (Hi-Res Audio), pre-amplified 4V RCA output and audio streaming via Wi-Fi.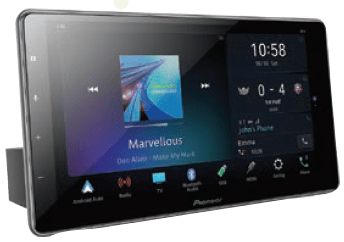 Multimedia Receiver DMH-ZF9380TV – Suggested Price as of April 12, 2021:R$ 4.369,00.
POSITRON
With a 7" touch-screen with high sensitivity and a resolution of 1026×600 pixels. The media center has Mirror Connect function with Android and iOS phones via USB cable, in addition to Bluetooth 4.2 connection, which allows you to make and receive hands-free calls, play music from the connected mobile device. It also has a USB port and microSD card reader and two more inputs for rear and front cameras. The keyboard lighting has seven colors options.
DVD Media center SP8240LK – Suggested Price as of April 12, 2021:R$ 649,00.
Eletrolar News Magazine 142
eletrolar.com