Dishwasher sales have increased 40% during the pandemic
The number is high, but the presence of the product in Brazilian homes is still low, only 2%, which shows a broad market to be conquered.

There's a market feeling that dishwashers will be very sought out products in this year's holiday season, in part due to 2020's history, when sales increased by 40% from January to June compared to the same period of 2019, and also by the increase in Google searches during the pandemic. In addition, today there's greater knowledge on the product's benefits, which ensures a more hygienic washing than the manual one and saves water and energy, making it an eco-friendly product. Check out the companies' products.
BRASTEMP
The Brastemp 10 services dishwasher has 6 courses and a digital panel. Boasting a sophisticated and compact design, it washes from bowls to pans and is suitable for several kitchen types. "It also has a touch panel and smart features that ensure impeccable cleaning", says Gustavo Ambar, vice-president of growth at Whirlpool Latin America, the brand's holder.
The market can grow a lot, Gustavo tells. "Today consumers seek devices to address their day to day needs but have not yet adopted consolidated trends abroad. Dishwashers, for instance, bring benefits such as saving water and time, but only have a 2% penetration in the country, while it surpasses 50% in other continents."ração no País, enquanto em outros continentes ultrapassa 50%."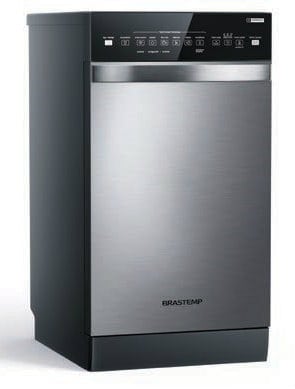 "Dishwashing brings benefits such as saving water and time."
ELECTROLUX
The highlight is the LV14X dishwasher, capable of up to 14 services and customized washing options, Thiago Nardocci informs, fabric care product manager at Electrolux Brasil. "It has a stainless-steel finishing and sensor that identifies that dirtiness level to program which washing cycle would be best."
Since March, when people started being more in their homes, Electrolux has observed an increase in the search for different products. It has done a research along with MindMinners that has showed that 66% more people have been performing domestic tasks. "New habits have brought new needs: in quarantine, consumers have increased the use of dishes. Globally, dishwashers have seen a progressive sales increase and the national market has grown by more than 48%", says Thiago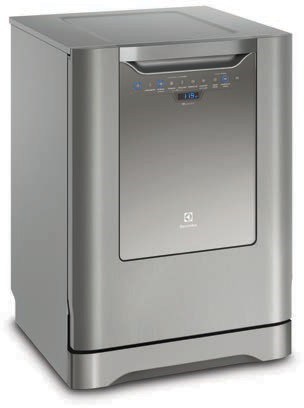 "Globally, the product had a progressive increase in sales. The national market grew more than 48%. "
PHILCO
The PLL14 dishwasher is the brand's top of the line, explains Cristiane Clause, Philco's executive director. "It has 14 services and removes even hard dirtiness. It can wash 42 plates, 14 cups, 14 teacups, 14 saucers, and 40 silverware simultaneously and has six programs: intense, ECO, glassware, 90-minute, fast, and self-cleaning."
The electronic panel comes with a lock, drying fluid resupply indicator, protection system against overflow, and residues filter, including four cycles: pre-washing, washing, rinsing, and drying. It's economic as it uses less water, and it's available in white and stainless steel. "The dishwasher market has a lot to grow in Brazil. We believe that, with new habits, this category should increase a lot, both in Black Friday and Christmas."
"The dishwasher market in Brazil has a lot to grow."
TRAMONTINA
The S15X 60 release marks the company's entry in this sector, after a series of research to ensure a product with relevant differentials to the end user, says Felipe P. Lazzari, commercial director. "It's the most silent in the country, has the lowest water and power consumption and the fastest program washes the equivalent to 4 services in only 14 minutes."
Developed in stainless steel, it has a silverware tray that can be removed for placing bigger dishes and an overhead bin with height adjustment. It also has automatic programs with Smart Wash technology, which detects the dish's dirtiness level, optimizing time and water and power consumption. "It's a segment that, due to the pandemic, has gained a lot of traction. Our expectations are incredibly positive, we should surpass this year's sales planning", Felipe says.
"It is a segment that, due to the pandemic, has gained prominence."
Source: Eletrolar News Magazine #138 – by Leda Cavalcanti