Washer and dryer combo: sales increase by 15%
Sales volume demonstrates that the product has become indispensable in the current routine.

The technology and features that bring the washer and dryer together in one product account for the increase in sales. From January to August 23, the billing of washing and drying combo machines grew 15% compared to the same period last year. They are products with models for houses and apartments, with high potential for commercialization. See some models.
LG
In the new line of wash and dry combo, highlights the Smart LG VC2 Inverter, of 11 kg, with frontal opening, high performance and 18% more protection for the clothes. "With Artificial Intelligence (AIDD ™), Wi-Fi connectivity, which allows you to control it from anywhere via the LG ThinQ® application, saves water and energy. It also detects types of fabrics and identifies the best washing movements," says Marcel Souza, sales executive for white goods and air conditioners at LG.
Thanks to TurboWash ™ 360º, you wash your clothes in just 39 minutes and use four 3D jets. It has Steam+ technology, which eliminates up to 99.99% of allergenic agents, and steam, whose Steam Refresh cycle sanitizes clothes, pillows or curtains and removes dents and creases. "Today's home appliances have as much technology as a computer or smartphone," says Marcel.
"Today's home appliances have technology like a computer or smartphone."
MIDEA
Storm Washer and Dryer Combo is focused on those looking for design, technology and practicality, says André KIiemann, product marketing manager at Midea. "Because it is essential in Brazilian homes, there is always a lot of demand on Black Friday and Christmas." It is available in white and metallic graphite, in the 10.2 kg, 11 kg and 12 kg models. It has 16 washing programs and an intuitive and practical LED panel.
A differential is the exclusive design of the 4D Drum, with relief in the shape of cubes. Combined with high washing rotation speeds, it creates waves of soap and water that clean clothes deeply. It has automatic water regulation and a reverse motor. The SmartSec function automatically controls the drying process to preserve clothes. "We see the sales of this product as promising and with a high potential for commercialization", says André.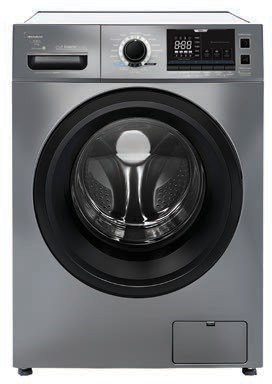 "We see the sales of washer and dryer combo as promising, with high potential for commercialization."
PHILCO
The brand's wash and dry machines, PLS12B and PLS12T, have high performance, differentiated design and are available in white and titanium colors, says executive director Cristiane Clausen. "They have InvertPlus, an Inverter engine technology, which guarantees lower noise and energy consumption. The Front Load model washes the same amount of clothes with less water."
Another difference is the OptimuWash: the basket, with an optimized design, has in elevations forming an S- and a 4D-cubed surface, which produce intelligent flows in the water jets for effective cleaning of the parts and without damage. Double filtration offers more security, as it retains small to large residues and objects that can damage the interior of the product. It also has the functions of hot water, anti-allergic rinsing, digital display, six spin speeds and 16 washing programs.
"Double filtration offers more security, as it retains small to large residues and objects."
Source: Eletrolar News #138 – by Leda Cavalcanti