LATIN AMERICAN ELECTRONIS & LATIN AMERICAN HOUSEWARES INTERNATIONAL TRADE SHOWS
INTERNATIONAL PAVILION OF ELETROLAR SHOW GATHERED COMPANIES FROM AROUND THE WORLD
Latin American Electronics and Latin American Housewares: products for a market of 200 million consumers.
Latin American Electronics and Latin American Housewares, pavilions dedicated to international brands in the electronics and housewares categories, held in parallel to the Eletrolar Show, showed exhibitors optimistic about the market and a possible greater economic opening in Brazil for manufactured products and parts abroad. "The fair is not only a national meeting point, but also an international one. We started our first event in 2005 and experienced the innovations and transformations of the market", said Carlos Clur, founder of Grupo Eletrolar and creator of the fair.
"The booth standard was high and attracted buyers. Our customers were satisfied with the results obtained, many made good contacts with a view to future business and others made sales at the fair. They have shown interest in participating next year and will book through RealLink," said Li Ningyan, president of the company that brought 72 customers to the event. General manager of Feilong Home Group Co, Ltd, Wang Ping exhibited for the first time. "The organization of the fair was very professional, and the level of buyers was high. I was very happy to have participated, "he said.
The opportunity to interact with innovative and high-quality products, coming from different parts of the world, aroused the interest of visitors. The experience was enriching. "Most of our customers achieved very good results at the fair. We brought 147 exhibitors, and we hope to increase this number in the coming years," said Yuan Binbin, director of the exhibition department of the China Chamber of Commerce (CCCME).
Eletrolar Show is an amazing show for exhibitors from all over the world, said Danny Deng, CEO of Guangzhou Tourland Exhibitions. "So much so that 91% of our customers found visitors that matched their own business, and 83% of them demonstrated their strong willingness to exhibit at the 2024 event. We brought around 15 exhibitors to this year's fair and their feedback was high praise for the Eletrolar Show. "
International exhibitors were satisfied with the fair and found that the Brazilian market is vibrant and promising. Some young brands stood out for their innovation. "More and more interest in Brazil is growing. This year, we brought 36 exhibitors, and 60% of them intend to return to the event next year", said Sam Liu, from Encore Expo. See some highlights of international brands.
MYSCREEN: NEW FILM CUTTING SYSTEM AND PRINTER
Present in all countries, the company made its debut at ES. It took the innovative MyScreen Cut&Use plotter system to the fair. Cuts films for all devices. The user chooses the model. About 30,000 are available. "The advantage of the system is that it eliminates the need for the retailer to stock products that don't sell. MyScreen is the first company in the world to manufacture these films, which resist major impacts, such as falling from a height of 2 meters. We have a lot of expertise, and the quality of the material is our differential", said Igor Adamski, sales director.
It also launched the printer for the user to customize the device. It prints a customized protection with the photo that the person chooses, the plotter does the cutting. The European company, which also has its own MyScreen Style brand, manufactures its products in Poland. Stablished in Brazil for six months, headquartered in São Paulo, it expects a large volume of sales this semester. "We believe in growth of 30% to 40% in the global market over the same period last year", said Igor.
PEABODY: THERMAL BOTTLE WITH DIFFERENTIALS
The Argentine brand specializes in high-end products for the home.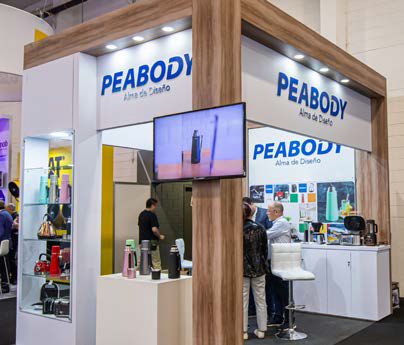 Peabody presented the eTermo PE-ET1000 electric thermos, made of stainless steel and double layer, which maintains the temperature of the water and heats it on two levels: Mate, at 75°C, and Maximum, at 90°C. Adapted to vehicle energy, it heats up in about 20 to 30 minutes.
In the conventional socket, six minutes are enough. "The eTermo cap can be used as a gourd, and the bottle comes with a pump-like straw", explained Guido Lombardi, commercial director at Goldmund, the brand responsible for Peabody.
Exhibitor for the third time at the Eletrolar Show, the company was pleased with the results obtained at the event and has good expectations for this semester.
"We believe that we will have a better moment of trading our products in these months of the year compared to the same period in 2022."
KONKA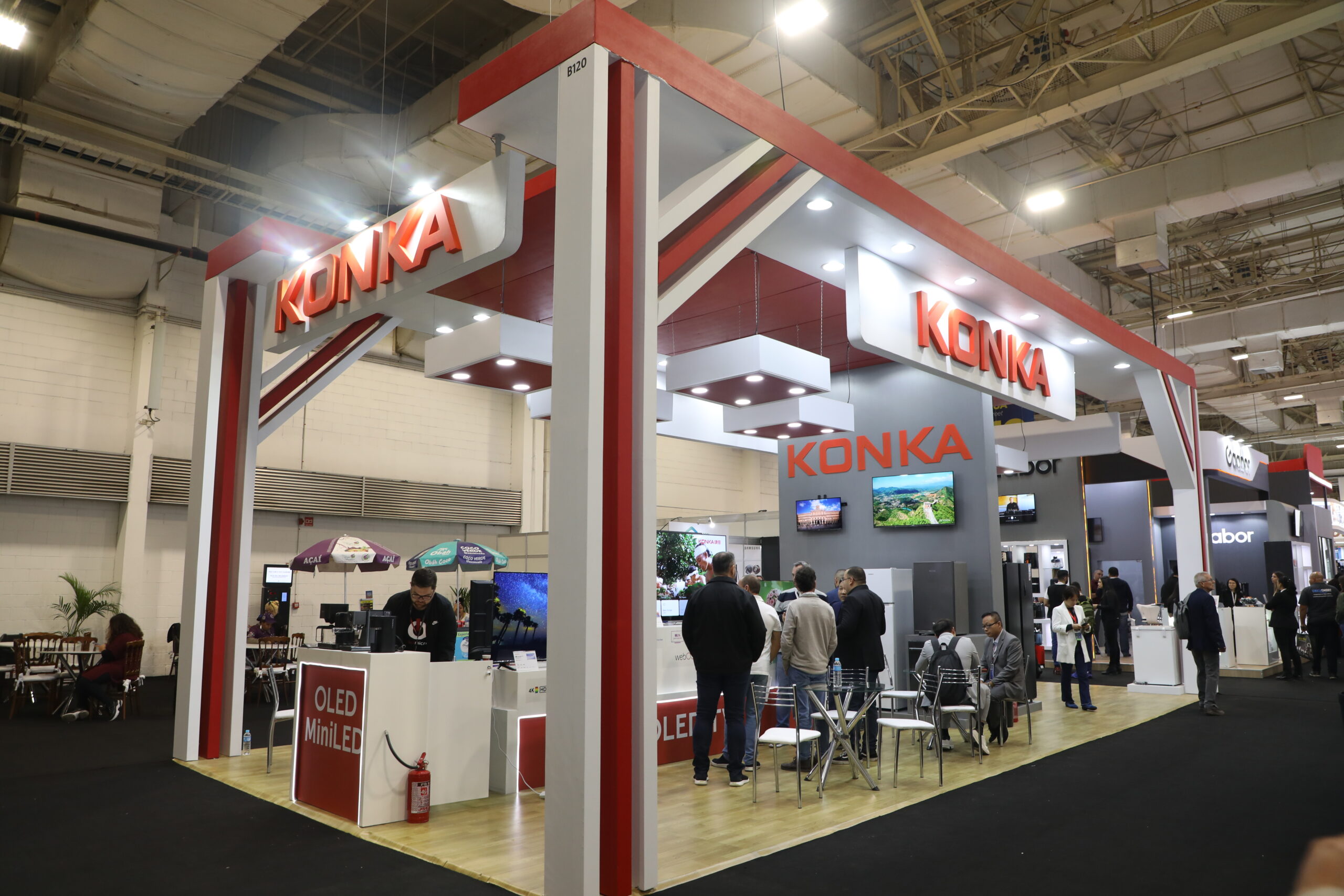 It exhibited state-of-the-art OLED TVs with an ultra-thin design and image quality consisting of 8.3 million pixels with automatic lighting, capable of an ultra-high contrast ratio of 1,500,000:1.
It also presented Mini LED TVs, with a wide range of colors, and a 27" mobile smart monitor, with built-in battery. It has 10-point touch control and gravity sensing features for quick screen operations. It also adjusts the screen orientation based on the displayed content. The device works with three of the main platforms: webOS Hub, Google TV and Android TV.
In the home appliances category, it presented its refrigerators with energy efficiency and advanced technology, which preserve nutrients and moisture in food. Another product was the washing and drying machine.
KODAK: RETURN TO BRAZIL IN HIGH STYLE
Digital cameras print photos in real time.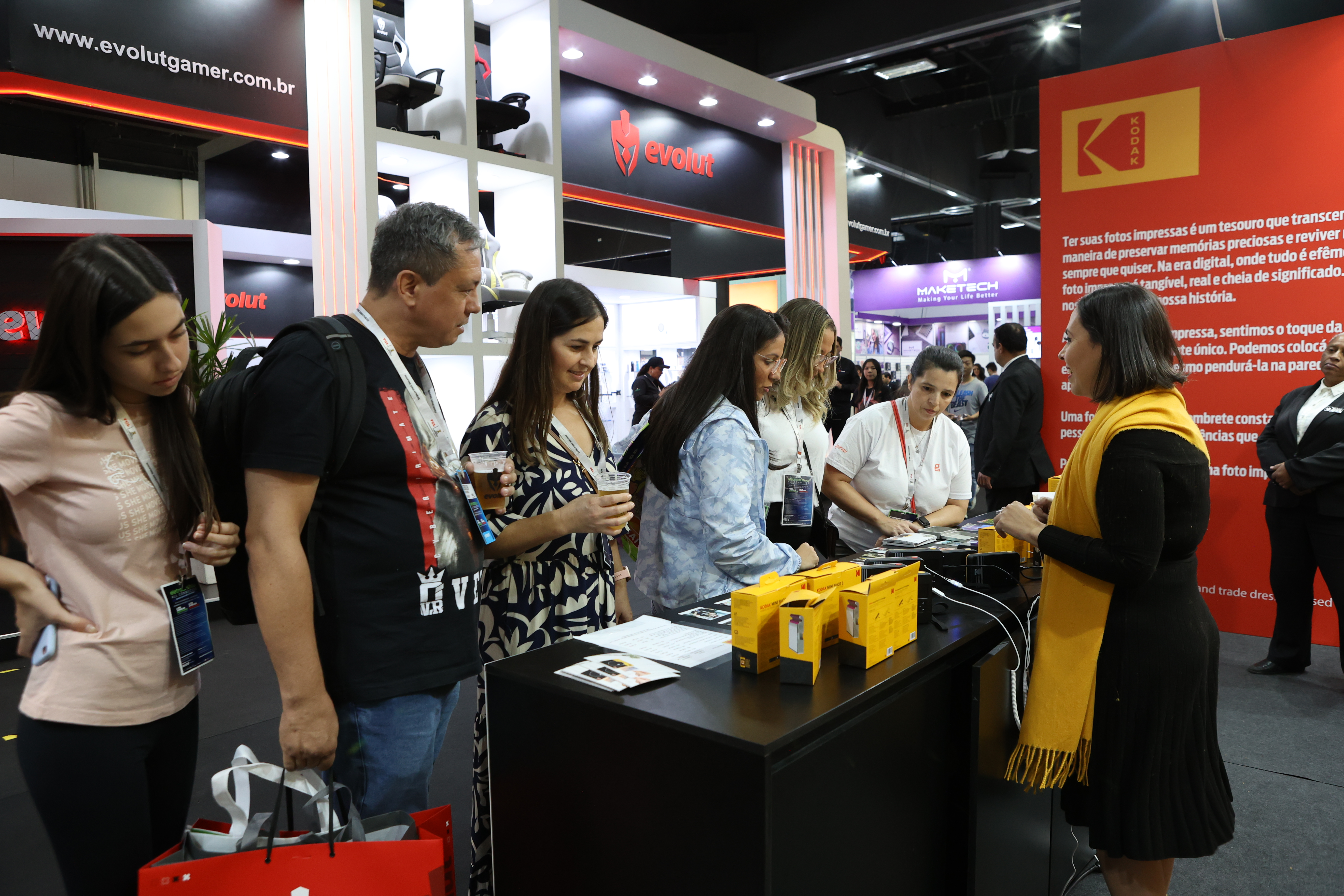 Kodak, a brand with more than 100 years, known for its cameras and photographic printers, returned to the national market. At the fair, it presented 10-megapixel digital cameras, which can print photos in real time, bringing back the pleasure of having images printed instead of just stored digitally. "And another line of photo printers that work through smartphones", said the business development advisor at Brazil Electronics, an official distributor of the products in Brazil, Fernando Perfeito.
"The return of the Kodak brand to the Brazilian market, with its nostalgic products, was very well received and generated interest among customers. Now Gen Z can experience photo printing for the first time. The Eletrolar Show is a fair focused on electronics retail and participating in it was very positive. We spoke exactly with the retailer specialized in the product", said the director.
SOUNDPEATS: HEADPHONES WITH OWN DESIGN
Products meet all profiles.
It presented its headphones with patents and its own exclusive design, like all other company products. "Our headphones are different and are suitable for all consumer profiles, such as executives, athletes and music lovers", said Sophia Cao, sales manager at Soundpeats.
The brand's portfolio has 20 products, with emphasis on the Air3 Deluxe HS, Capsule3 Pro, Opera 05 and Engine4 models, all with Bluetooth connection.
The company, which exhibited at the fair for the first time, records high demand for its products in the United States, Japan, and e-commerce. "Now, we want to put our headphones in the Brazilian retail market", said Sophia.
ZOJIRUSHI
Founded in 1918 as a manufacturer of hand-blown vacuum bottles, it has become a world leader in thermos products. Expanded the line, which currently includes stainless steel vacuum bottles, rice cookers, bread makers, Air Pot®, small electrical appliances and restaurant equipment. "Today, the Zojirushi corporate logo is a globally recognized symbol for innovative and highly durable products," said the company's marketing department.
It launched the Micom NL-DAB10/18 rice cooker and heater, with an elegant design and Fuzzy Logic technology, which allows fine adjustments to cook perfect rice. It has the configuration of several menus, including brown rice, and the Porridge function. Comes in 5.5 and 10 cup capacities. "Zojirushi is known for producing the best rice cookers," the company pointed out. It also launched the Inox mug, with vacuum insulation technology, which guarantees hot or cold drinks for hours. It has a one-piece, hinged lid, which prevents leakage, and comes with a safety lock and an integrated gasket, which is easy to clean. It's made with 18/8 stainless steel, and all surfaces that come into contact with beverages are BPA-free.
KINGCLEAN
The company, founded in 1994, develops innovative product lines, including vacuum cleaners, hair dryers, small kitchen appliances and fans. The SW30 vacuum cleaner, for example, has a powerful BLDC motor, meets the IPX8 standard and is waterproof. Uses removable high-capacity lithium batteries, 8×3000 mAh (up to 35 minutes at low speed) and voice command. The product has user-friendly technology and antibacterial particles.
"Visitors were very interested in our products; we made contact with some influential local companies, and we hope to form good partnerships in the near future.
The fair was good for us to learn more about the needs of the Brazilian market and for offering meetings between exhibitors and buyers. Brazil is definitely an important market for our company, so we participated in the event and looked for reliable partners," said Zhou Wenting, assistant manager of the company.
HOMEGLASS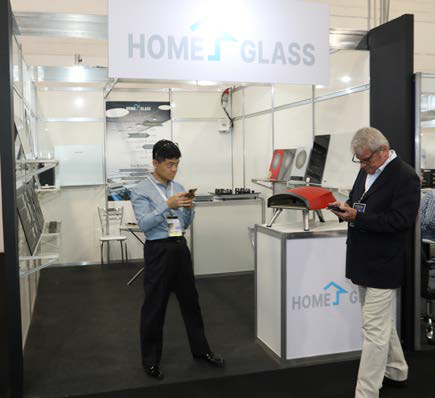 As it dries at a low temperature, it allows clothes to be used as soon as they come out of the machine. "Our stand attracted a lot of attention, we met longtime customers, not only from Brazil but also from Paraguay, Bolivia, Uruguay, and Suriname. For us, the fair was very good, it presented better results than expected", said Wan Dingwei, business general manager of the company.
It featured tempered glass products, a high-efficiency gas pizza oven that bakes in two minutes, and an induction cooktop. The company's tempered glass can be used in household appliances and is CE certified, a proof that the products are manufactured with safety, health, and environmental protection requirements.
"We participated in the fair for the first time, and we are in contact with some potential customers. We hope to close orders soon. Brazil is Latin America's largest market, has high urbanization, diverse social culture and thriving commercial economy. It's fertile territory," said Louise Leung, the company's sales representative.
PROOF EXISTS LAUNCHED THERMAL BOTTLE MADE OF SURGICAL STAINLESS STEEL
Company is represented in the country by Brazil Eletronics.
Newly arrived in Brazil, Proof Exists chose Eletrolar Show to launch the Mennä thermos. "It is a differentiated product, not only because of the surgical stainless steel, which prevents bacteria and fungi, but also because of the built-in infuser", explained Fernando Perfeito, business development advisor at Brazil Electronics, official distributor of the brand in Brazil.
The infuser can hold leaves, tea bags, fruit, coffee, or chocolate – hot or cold. It is possible to dose the drink, according to the consumer's taste, lighter or stronger. When closed, the bottle seals completely and is ready for the next infusion.
At the booth, it presented other products. "We showed the line of bottles that are not for infusion, but completely BPA free, with a differentiated design and anti-leakage, and the line of glass-based products, with thermal treatment.
We are also bringing bottles that change color as the liquid is added", said Fernando, who considered the fair important for receiving customers and registering resellers interested in the products.
TECTOY SHOWED ITS NEW PORTFOLIO
Think Well computer line was a great highlight.
The Eletrolar Show has proved to be an important stage to boost the electronics market, said Valdeni Rodrigues, CEO at Tectoy. "We took the opportunity to present our main products, such as the Pensa Bem computer line, consisting of a mini-PC, tablet and notebook with Windows 11 embedded, and video game models, including the classic Master System and Atari." Under his management, this was the first time that the company presented its new portfolio, conceived during the pandemic.
Interaction with the B2B audience was Tectoy's focus. "We are looking for possible partnerships with foreign companies present at the event, with the possibility of manufacturing and reselling in Brazil. We aim for sustainable growth and a positive chain reaction for the market." According to the CEO, today sales are promising, and the recent reforms should contribute to cost reduction and increased demand.
VENTION
The holder of more than 200 patent certificates for products to meet the diverse needs of users, it presented digital accessories with complete 8K solutions, 140W GaN charging devices, 12-in-1 multifunctional docking stations and Bluetooth 5.3 headphones, among others highlights.
"Our products were very well received and recognized during the fair. We established new commercial partnerships and contacted potential customers, creating a solid base for the development of future businesses. We obtained good results and will participate in the event again next year. Our objective is to further consolidate and expand our position in the Brazilian market", highlighted the company.
IKOO GLASS
It exhibited a complete line of Ikoo glass containers, with bowls, bottles, cups, and tray, which can be used in the microwave, oven and freezer. They support temperatures of up to 560oC in the oven and less than 40oC in the freezer. It also launched stainless steel products, whose main feature is that they can be put in a microwave oven.
"Some invited customers visited our booth and selected products. For us, the Brazilian market is very important, it is new and has great potential. There are 200 million people. Our products meet daily needs and at the fair we saw that most customers liked them. We will pay attention to open this new market", said Li Hongjie, sales manager of the company.
JIMMY
It presented an innovative and versatile product, which allows the user to easily remove wet and dry dirt, including carpets and upholstery. It is a 3 in 1 product: portable vacuum cleaner, upright vacuum cleaner and floor scrubber. Comes with separate brush for floors. The 7×3800 mAh replaceable battery lasts for 80 minutes in portable use and 40 minutes in vertical use. It has an LCD screen, with useful information during cleaning, and voice command. "The product, which is new on the Brazilian market, attracted the attention of visitors to the fair. We have contacted potential customers and hope to cooperate with them. Many buyers told us they were confident that the product and dust mite vacuum could sell well in Brazil, which is Latin America's biggest market. And the high penetration rate of e-commerce in the country creates the ground for the promotion and dissemination of the Jimmy brand", said Dora Guan, the company's sales director. LegendaDora Guan, sales director at Jimmy 1HORA
The brand of electronic accessories for mobile phones originates from Mexico and is committed to offering the best products. It has distributors in almost every country in Latin America and, this year, it made its debut in Brazil. Its main lines include TWS headphones, chargers, data cables, Bluetooth speakers, powerbanks and batteries. The products will arrive in Brazil next October.
"Visitors to the fair were delighted with our products and the arrival of the brand in Brazil. This is mainly due to uncompromising quality control, a one-year warranty, and affordable prices. We received 260 people interested in the products, which surpassed our number of activities, and, at the event, some customers have already decided to work with our products", said Oscar González, sales director at 1Hora Colombia.
IP3 TECHNOLOGY
The service provider with complete solutions for global consumer electronics and smart grid products has received approval from a large number of visitors to its booth, said Linya, sales manager. "We found many potential partners who are willing to work with us because of the design, performance, and pricing of our products. Brazil is a very important market for IP3. It has a young, growing population and enormous consumption potential. The internet penetration rate reaches more than 70%, and shopping behavior, at the end of the year, is like that of the United States."
The main characteristics of IP3 Technology's products are portability, lightness, good quality raw materials and aesthetic appearance. They have a clean design, and some have multifunctional interfaces, as is the case with the pic box.
GUANGZHOU XIANYOU INTELLIGENT TECHNOLOGY CO., LTD.
Apresentou a linha de TVs LED, com tamanhos de 24" a 98", resolução HD, FHD e UHD. Os aparelho possuem conectiviade via Bluetooth e as funções Dolby, Netflix, YouTube, Prime Video, Disney, HBO, Star+ e Amazon. Também expôs o monitor e computador (PC) AIO, com telas de 19″ e 34″, resolução 1080P, 2K, 3K, 4K, interface VGA, HDMI, DP, Type-C, USB e taxa de atualização e 75 Hz, 100 Hz, 165 Hz, 180 Hz, 240 Hz, 360 Hz. Chips: i3, i5, i7.
"Houve grande interesse por nossos produtos na feira e, após o seu término, visitamos alguns potenciais clientes locais. Eles testaram os produtos e nos ofereceram feedbacks muito positivos. Alguns visitarão nossa fábrica nos próximos meses. O Brasil é um mercado muito grande. E a feira atraiu para nosso estande, também, clientes de países vizinhos, como Bolívia, Uruguai e Paraguai", contou Zhong Yu, gerente de vendas da empresa.
It presented the line of LED TVs, with sizes from 24" to 98", HD, FHD and UHD resolution. The devices have Bluetooth connectivity and Dolby, Netflix, YouTube, Prime Video, Disney, HBO, Star+ and Amazon functions. It also exhibited the monitor and computer (PC) AIO, with 19″ and 34″ screens, 1080P resolution, 2K, 3K, 4K, VGA, HDMI, DP, Type-C, USB and refresh rate and 75 Hz, 100 Hz, 165 Hz, 180 Hz, 240 Hz, 360 Hz. Chips: i3, i5, i7.
"There was great interest in our products at the fair and, after it ended, we visited some potential local customers. They tested the products and gave us very positive feedback. Some will visit our factory in the coming months. Brazil is a very big market. And the fair also attracted customers from neighboring countries, such as Bolivia, Uruguay, and Paraguay to our stand," said Zhong Yu, the company's sales manager.
DO INTELLIGENT TECHNOLOGY
He highlighted smartwatches, his most important products. They have a touch screen, smooth sliding, and high refresh rate, four application themes and more than 100 sports modes, including support for running, heart rate, sleep, blood oxygen and stress monitoring.
"Our products were very well accepted at the fair; we made business and commercial partnerships for future negotiations. Brazil is very important for our company; it has a large market scale. People love sports and smart electronics. We believe there is a great demand for smartwatches," said Zhou Yang, the company's marketing manager.
Source: Eletrolar News Magazine 156
eletrolar.com
eletrolrarshow.com.br