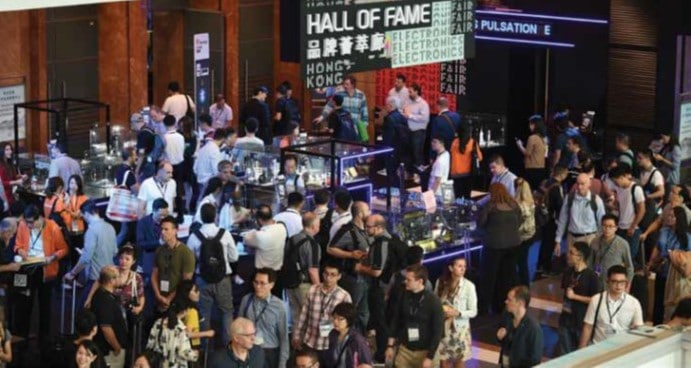 Innovation and technology at Hong Kong trade shows
Smart technology items like surgical robot arm and virtual reality devices were some of the highlights.
Innovative products from a variety of categories, such as consumer electronics, fitness, wellness, small appliances and medical devices, caught the attention of 67,000 buyers from 141 countries who visited the 39th Fall edition of the Hong Kong Electronics Fair (HKTDC), sponsored by Hong Kong Trade Council, and the 23rd electronicAsia, held in conjunction with MM Asia Pte Ltd. Held at the Hong Kong Convention and Exhibition Center last October, they brought together 4,300 exhibitors from 24 countries.
The highlights were the surgical robot arm, the 5-in-1 mechanical coding robot, the ROXs Pro 6 interactive lights, the smart fitness mirror, the spine traction massager, the fast pain relief massager, the smart wireless meat thermometer, the smart portable coffee maker, and the Lockly Secure Lux lattice lock, accessed by means such as a fingerprint and Bluetooth enabled phone.
Despite the trade friction between the United States and China and the social unrest in Hong Kong, the fairs were normal. "We will continue to strengthen HKTDC's business exchange services and organize procurement missions to create more opportunities for exhibitors and buyers through the Hong Kong platform," said the CEO Benjamin Chau. This year, both fairs have seen an increase in customer service from markets such as Macau, the Netherlands, Romania, Russia and Turkey.
Search
During the fair, HKTDC commissioned an independent survey, which listened to 1,055 people, including exhibitors and buyers. The result pointed out that most have a conservative stance on the electronics industry's outlook for the coming year: 55% expect stable sales, 25% expect growth and 17% believe the decline.
Augmented reality (AR) and virtual reality (VR) devices have great sales potential, according to the survey: 75% of respondents have a positive outlook for both over the next two years. Electronic accessories were rated most promising in sales compared to last year by 18% of respondents, followed by the audiovisual category (16%) and computers and peripherals (12%).
The fair also hosted a technology and innovation symposium where experts discussed 5G's latest industrial and commercial developments and applications. The Hong Kong network is scheduled to be launched in the fall 2020 issue of HKTDC. Another space was reserved for startups from various countries.