MICROWAVES – Pretty and practical everywhere
With new technologies, presented in several sizes and designs, the microwave is one of the most valuable products in the kitchen daily life.
by Neusa Japiassu
There are several models available in the market. With new technologies, functions, designs, and sizes, the microwave translates into an option for Mother's Day, as it's possible to have them even in small kitchens without losing its features. For custom-made furniture, there's always a model that fits the decoration. The microwave is present in almost every home and also in offices, restaurants, coffee shops, and bakeries.
In 2019, sales dropped 4% when compared to the previous year, according to research company GfK numbers. This doesn't mean that the product is less used, but it is rather an auxiliary kitchen appliance, not a stove substitute. Actually, the market has adjusted itself. The consumer, in turn, according to manufacturers, switches every five, seven or 10 years, per usage frequency and the device's conditions.
The category is well sought in Mother's Day. "We see a strong development in business, primarily in 2019 and the forecast for 2020 is of at least a 30% growth", says Karin Pruner Fischer, marketing and commercial director of Fischer. "There's an important recovery from this year's second quarter onwards, driven by interest rates decreases and higher consumer optimism", says André Kliemann, Midea home appliances marketing head.
"In the past years we've noted a significant growth in sales in May. Growth can reach 30% when compared to the sellout monthly average", states Caio Cavalheiro Marques, Panasonic's white line products marketing manager. "Having only microwave sales in mind, the market expects a growth estimate for the second quarter of 2020, which will likely happen precisely due to Mother's Day, says Felipe Camargo, marketing director at Whirlpool Latin America.
Practical and durable
A rather practical daily life product, this is how Karin, from Fischer, defines the microwave. "With some features such as combined cooking – present in some of our models – it's possible to prepare complex meals with impeccable toppings. The defrosting feature is perfect for those who seek promptness in the kitchen."
The microwave is present in almost every home and also in offices, restaurants, and bakeries.
The product is primarily recognized by its usefulness, serves consumers very well, which prepare small portion meals and want promptness, states André from Midea. "The technology in these devices, as most items that comprise the kitchen, have power efficient systems. Midea was awarded the Procel Seal for all of its microwave line-up."
A microwave's durability can be a decade old, says Caio from Panasonic. "The demand for design and new finishing has been increasing, mainly because today, with integrated kitchens, the product is in the living room. This can accelerate switching into a shorter period."
From the cooking and meal prepping point of view, the microwave brings practical and interesting solutions to consumers. "With a lower price when compared to other cooking categories, the microwave also allows a quicker meal preparation, saving consumers' time, points out Felipe from Whirlpool.
News
The product has a prominent place in sales for Mother's Day for its usefulness and for keeping up with current life standards. "Our highlight is the Fischer 25 liter embedded microwave that brings design, beauty and refinement to the kitchen, in addition to be a solution that fits in with other Infinity Line-up electronics. It's available in two models: stainless steel and black", says Karin.
It's one of the most desired products for Mother's Day for its modernity and practicality.
This year, Midea's major news in microwaves are the silver, mirrored doors and panel models, tells André. "The features of this product denote refinement and modernity to kitchens. The model also offers practicality, such as the Easy Cleaning and meat, fish, and beans Defrost Menu features."
A microwave manufacturer in Brazil since 1985, Panasonic has surpassed the 10 million sold units mark, Caio informs. "We have several models from 21 to 32 liters. They carry the brand's power in the category. We'll have news this year. Demand for innovation in this sector is high and our team is working a lot to surprise the market."
Whirlpool, holder of Consul and Brastemp brands, has microwave line-ups in different colors, capabilities, and designs, says Felipe. "Last year we released the 20 liter Brastemp in mirrored stainless steel with many features. From Consul we have the intuitive features microwave, with the goal of easing consumers lives with practical, day-to-day recipes."
Meet the companies' highlighted models:
FISCHER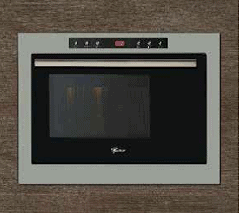 Embedded 25 liter microwave – Digital display, food gratin feature, internal cavity in stainless steel, defrosting features, combined cooking, auto-menu, clock, safety lock, and with five power levels. It has a black glass door and polished finishing handle. Available in 127 V and 220 V. Suggested price on 02/13/2020: BRL 2.219,00.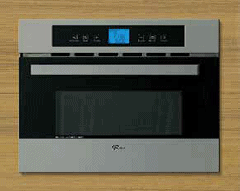 Platinum Grill 35 liter embedded microwave – Touchscreen panel, five power settings, defrosting, combined cooking, auto-menu, and gratin features. It has a flat cooking system (no spinning tray), clock, and safety lock. Inmetro certified. The internals are in polished stainless steel. Available in 127 V and 220 V. Suggested price on 02/13/2020: BRL 3.699,00.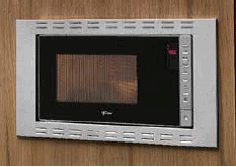 Fischer Fit Line 25 liter embedded microwave – Spinning tray and 315 mm grill, five preset recipes, safety lock, clock, auto-menu with 8 options, 5 power settings and digital display in red. Digital electronic control and integrated air outlet, in addition to an internal ventilation system to cool components. Available in 127 V and 220 V. Suggested price on 02/13/2020:
BRL 1.129,00.
MIDEA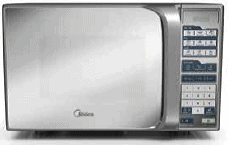 Silver 20 and 31 liter microwave – Modern design, mirrored door and panel, ECO feature, power-saving system that grants the product the Procel Seal and A rating in the Brazilian Labeling Program (PBE). They offer practicality with the Easy Cleaning and Defrosting Menu features. Suggested price on 01/31/2020:  BRL 489,00 (20 liter). 
Embedded 45 liter electric stove with microwave – Five power settings and 11 functions. Digital display, menu with 13 cooking and two defrosting options. Sophisticated and compact, it has a stainless steel design. Available in 220 V. Suggested price on 01/31/2020:  BRL 3.699,00.
PANASONIC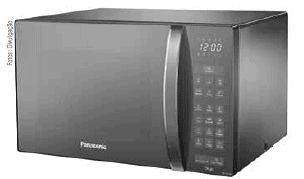 The company has several models, from 21 to 32 liters, among them is the ST67 microwave, with 900 W power. It has 8 preset recipes, deodorizing button, three auto-defrosting options, three memory and auto-reheating options and a mute button. Suggested price on 01/31/2020: BRL 619,00.
WHIRLPOOL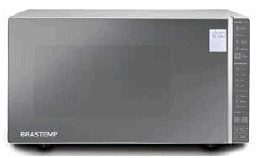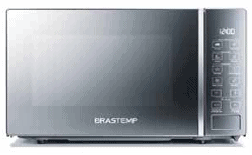 BRASTEMP – Spotlights two microwave. The 20 liter BMS20AR in mirrored stainless steel, it has pre-cooking features including uniform defrosting, melting, auto-clean and quick recipes. It has a minimalist design and an LED touch panel. The other model, 32 liter BMS45CR,in mirrored stainless steel, has an LCD display and integrated panel that brings sophistication to the kitchen. It has different power settings and accurate defrosting from Brastemp's Turbo Defrost technology that combines ideal times and power for the food.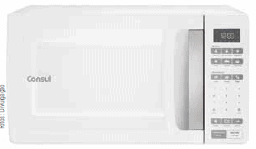 CONSUL – The 20 liter microwave has different power settings, easy defrosting features, quick recipes, turn off feature, visor, and safety lock. It's available in mirrored stainless steel (CM020) and white (CMA20). Another brand's microwave is the 32 liter (CMS45AR),in mirrored stainless steel. 900 W in power, defrosting features, defrosting by weight, quick recipes, safety lock, deodorizing and mute buttons. Also available in white (CMS4AB).
Source: Eletrolar News ed. 135